Raff Law Stars in Sky's New Film Twist: Interview
Raff Law Had Three Months of Parkour Training Before Playing Oliver Twist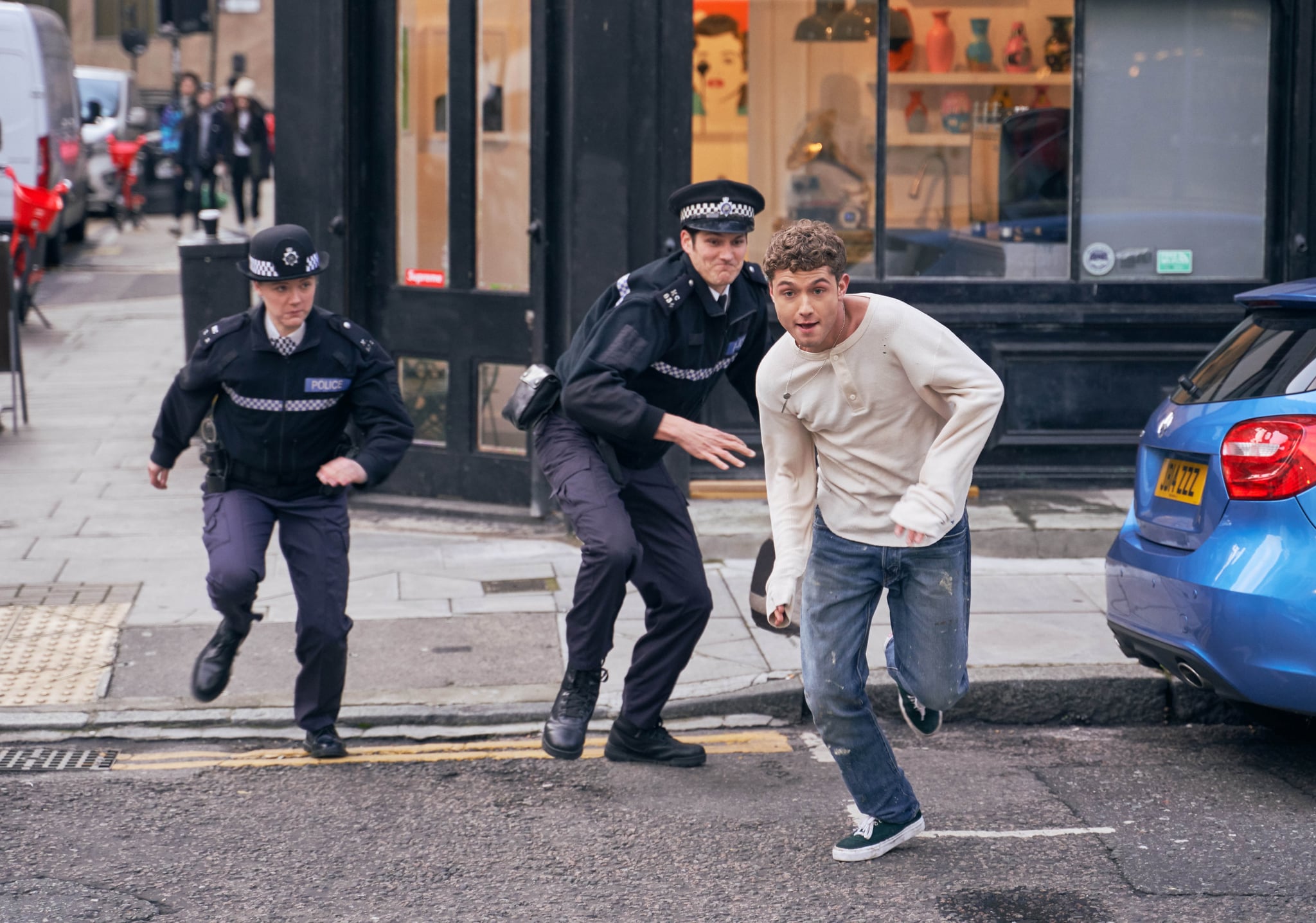 Oliver Twist is a classic story by Charles Dickens about a young boy growing up in poverty who refuses to accept his fate. It's an age old tale, one that's had its fair share of recreations, but the latest offering from Martin Owen is a very different adaptation. With an all-star cast including Sir Michael Caine, Rita Ora, David Walliams, Lena Headey, Bulletproof's Noel Clarke, and Rafferty Law (son of Jude and Sadie), Twist is the ultimate modern-day retelling.
Set in London, the film follows a tenacious young Twist — played by Law — who meets a charming gang of thieves that enlist his help to steal a priceless painting. Almost like a British version of Netflix's Money Heist at times, the film transforms an 18th century classic into a surprisingly current crime drama. We caught up with the film's breakout star, Raff Law, to chat all things free running, graffiti, and classic literature.
POPSUGAR: Did you read or play Oliver Twist at school, and if so, what was it like being able to recreate that classic for a new audience?
Raff Law: I never actually played Oliver Twist at school, I did read the book and watch the musical though! For me, to be able to recreate such an iconic and timeless story was really exciting. Everyone grows up knowing the Oliver Twist story, I grew up singing the songs and watching the musical so I really wanted to make sure that it wasn't too easy to compare Twist to the original. What really spoke to me through the script was that the essence of the story was still there, and you still had those same characters that people love.
The fact that it's set in modern-day London with a new dialogue and new visuals excited me because in this film, Twist is a runner, a climber, and he's an artist. His mum taught him how to paint and I felt like it was those elements of it that I could really use to make my own Olly Twist. I was just really excited to be able to take everything I knew and learnt about Oliver Twist growing up and then put my own spin on it.
PS: That makes sense. You've always had such an interest in art, so how did it feel to be able to show that in the film?
RL: I've always loved sport and exercise, so that element of running and climbing really excited me, but the real essence of Twist and his mother's relationship is that it's built on this foundation of art and being able to escape into any world you want. It's that kind of message that his mum instills in Twist from a young age and then it's how he lives his life. He lives up on these high rooftops to escape from what's down there so that he can build these worlds of peace and harmony in his own mind.
I'm someone that's always loved the arts, I'd love putting on exhibitions with my friends when I was younger or appreciating my friends' work, and I write music. Channeling all of people's creative talents and putting them on a platform together is something that I've always wanted to do so I really took that into the part of Twist. As a character, he sees that the world is a dark place and he uses his art to escape from that.
PS: There's a lot of free-running and parkour in the film too, was that something that you did yourself?
RL: Before the film, I'd heard of parkour a lot actually. I went to school with a guy who really loved free-running, he was in a free-running crew and they used to go off on weekends and do their stuff, but I'd never actually gotten involved myself. He had a birthday party when we were 10 and we did some free-running that day I remember.
When the audition tape came through, I read the script and met the director and he made it quite clear that there was going to be a lot of action. I did three months of training with a parkour coach called Sébastien Foucan and he taught me the technique and all the basics. We tried to cram in as much as possible so I could do as many of the stunts during the film. I did quite a bit of it, but I couldn't do the bigger stunts because of health and safety reasons. I couldn't injure myself because obviously then the film would have to be delayed for a few weeks. I really enjoyed it and it's a really cool skill to have. Meeting a lot of the free runners that came to be in the film and seeing the videos they make and the jumps they do was really amazing. Having that fearlessness to be able to do what they do is crazy to me.
PS: There is definitely an element of that anything-is-possible attitude in the film. Keith Lemon makes a little cameo too, what was it like working with him?
RL: He was one of the last people I knew was going to be involved in the film. There'd been whispers of who was going to play Warden Bumble, and when I found out it was him, I was over the moon. I've watched a lot of Keith Lemon's skits and comedy shows from a young age and I've always found him really amusing. Working on screen with him was really interesting because he's very, very good at going off on ad-libs and improvising, and it was very different to a lot of other people I've worked with. He'll go off and say something outrageously hilarious, and you've got to keep a straight face which was hard!
Getting to know him off camera as Lee was wicked as well. He's a really lovely guy, really funny. Everyone in the cast was very interested in what everyone else was doing, which was really nice. It was a breath of fresh air to be able to work with these people who I've always looked up to and idolised, and for them to be asking me what I've been up to, giving me compliments and little tips here and there. It was just a really nice fluid set, everyone was always in conversation and we really had each other's back.
PS: That must have been really nice! Do you have any fun behind-the-scenes stories from set?
RL: It doesn't even sound that funny but we'd have so many jokes about lunchtime. When lunchtime time rolled around, everyone would be talking about what they were getting for lunch, and there was a constant joke going on about chocolate biscuits, because there were always chocolate biscuits on set.
A great moment for me was when my little brother came to visit and saw me doing some of the stunts. I loved having him there and watching him getting to meet everyone. All the times we were all sat in the green room as a cast, getting to know each other, telling funny stories, and laughing together was amazing. Every day was different and I didn't really want it to end.
Image Source: Sky