RuPaul's Drag Race UK Showcases Queens From All Over UK
RuPaul's Drag Race UK Reminds Us That the LGBTQI+ Community Is Much Larger Than London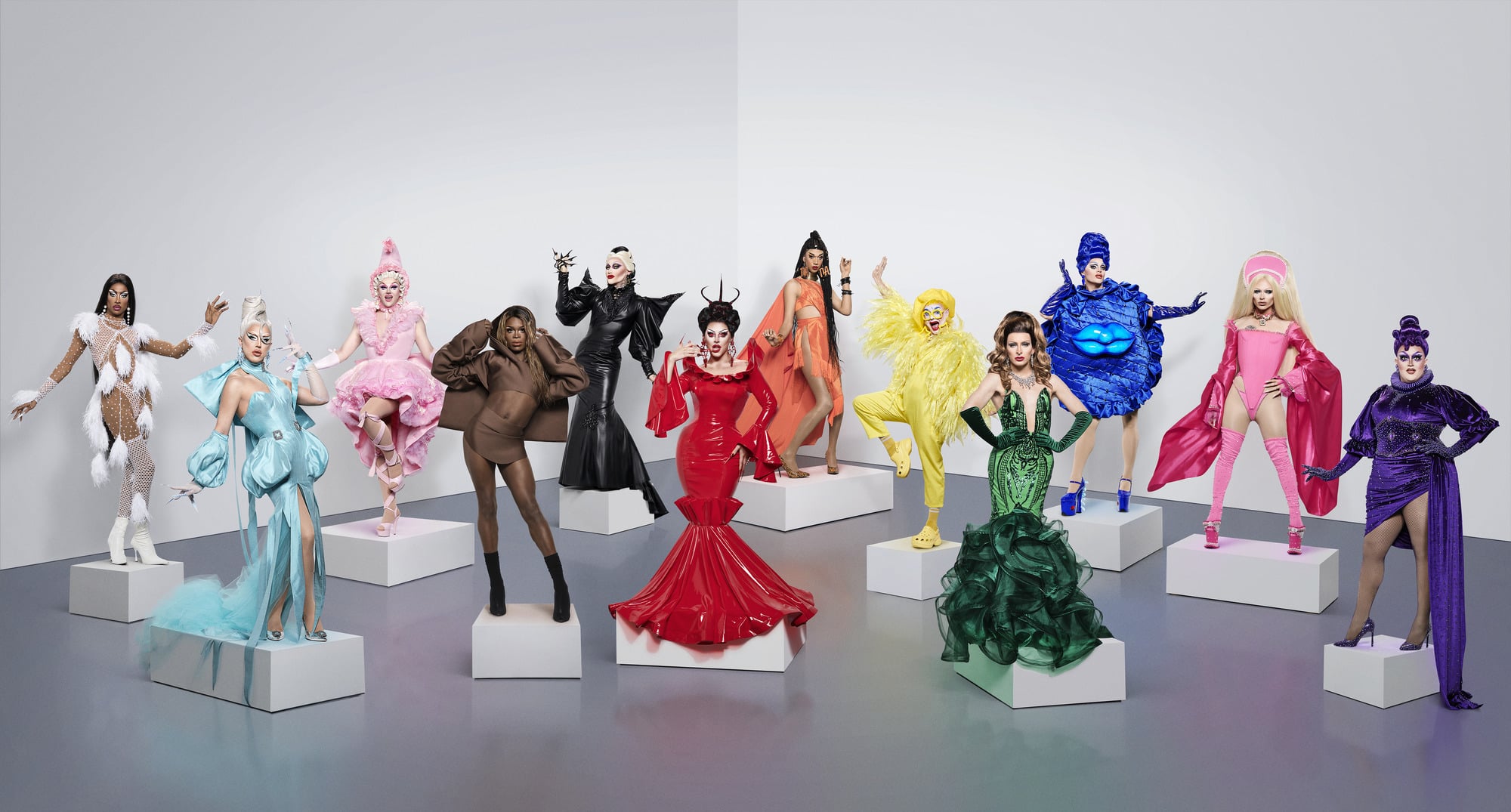 After the monumental success of the debut of RuPaul's Drag Race UK, in 2021 we've been introduced to a new group of queens whose talent and creativity has already humbled us. The cast for series two includes queens from all over the country showing up to shantay and — for all but one – sashay away. And like the contestants from series one, viewers are once again being exposed to a variety of different stories and experiences, from queens of every walk of life — not just from the streets of London — a fact that has far more meaningful implications than simply providing us with a weekly dose of fabulous and sparkle-filled entertainment.
More Than Just a Competition
In addition to the success of RuPaul's Drag Race UK, the last few years have seen a swell of television from areas outside of the nation's capital, with amusing and often touching shows being produced that strive to include a more well-rounded look at the UK. Series like This Country and even Gogglebox aim to capture experiences that aren't as city centric, yet are still fraught with issues that affect all of modern Britain; everything from politics, to family tensions, while remaining refreshingly unencumbered with the centre-of-gravity-ness that London can hold over its audience.
RuPaul's Drag Race UK may seem like a flashy competition show, but the show is also able to cover a lot of ground on issues surrounding gender, sexuality, politics, and mental health in the UK, and addresses these subjects in an accessible way that engages with a broader audience. As we progressed toward the stunning series one finale, we heard from The Vivienne, who gradually opened up more and more about her struggles with addiction, and how her life had been turned around by drag and positive relationships. Baga Chipz, another fan favourite, also revealed her own difficult relationship with her mother, and how that had affected her in the family drag makeover challenge.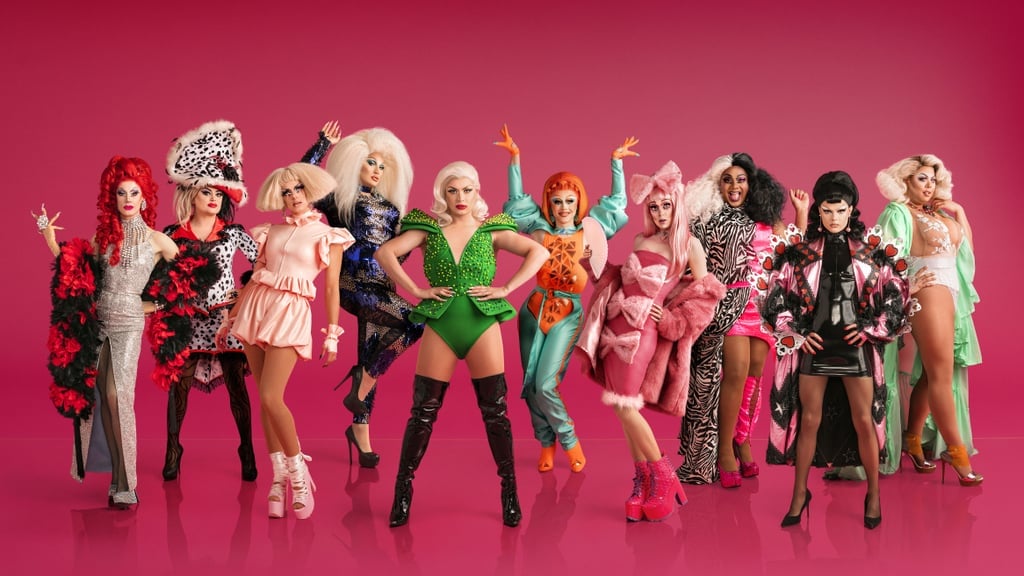 The series can also be a reminder that while London and its outskirts are deemed broadly progressive, it's not always been that way in other parts of the UK. Back in series one, Blu Hydrangea shocked the room when she spoke to Northern Ireland's same sex marriage ban (which was overturned in January 2020, post Drag Race finale). The reaction of the room – many of who were from the bigger cities in the UK – not only showcased the need for greater awareness around these issues, but also acted as a stark reminder that equality has not always been granted in all parts of Great Britain.
However, there were calls for an even more inclusive approach for the UK's second series, as the first disappointed fans with only two queens of colour, Vinegar Strokes and Sum Ting Wong. Coupled with backlash over trans representation in the franchise as a whole, this feedback has lead to the current series two lineup, with three people of colour (although, we still think that number is quite low), and a cast who all took on the colours of the Progress Pride Flag at the onset of the competition, a symbol of the incorporation of more identities, while honouring those who have lost their lives to HIV and AIDS.
Offering a Safe Space For Those From Smaller Communities
While the runway is frequently the highlight of Drag Race, the most important moments of the show happen in the workroom where contestants are able to be vulnerable and open about their lives while they're getting ready for a competition. The structure of the episodes allows for the story of one person's struggle to be shared, in an environment populated with like-minded individuals from a variety of backgrounds, who listen and often pitch in to offer their opinion or commiserations.
These moments — where people can confront their innermost fears of being unlovable, or different, and be met with sympathy and relatability by others — is what has made the show, and series two especially, such compelling and emotional viewing. It also, more importantly, offers a platform to those who ordinarily wouldn't be able to easily share their stories or perspectives; for example, those who feel isolated from the more big city drag and LGBTQI+ communities.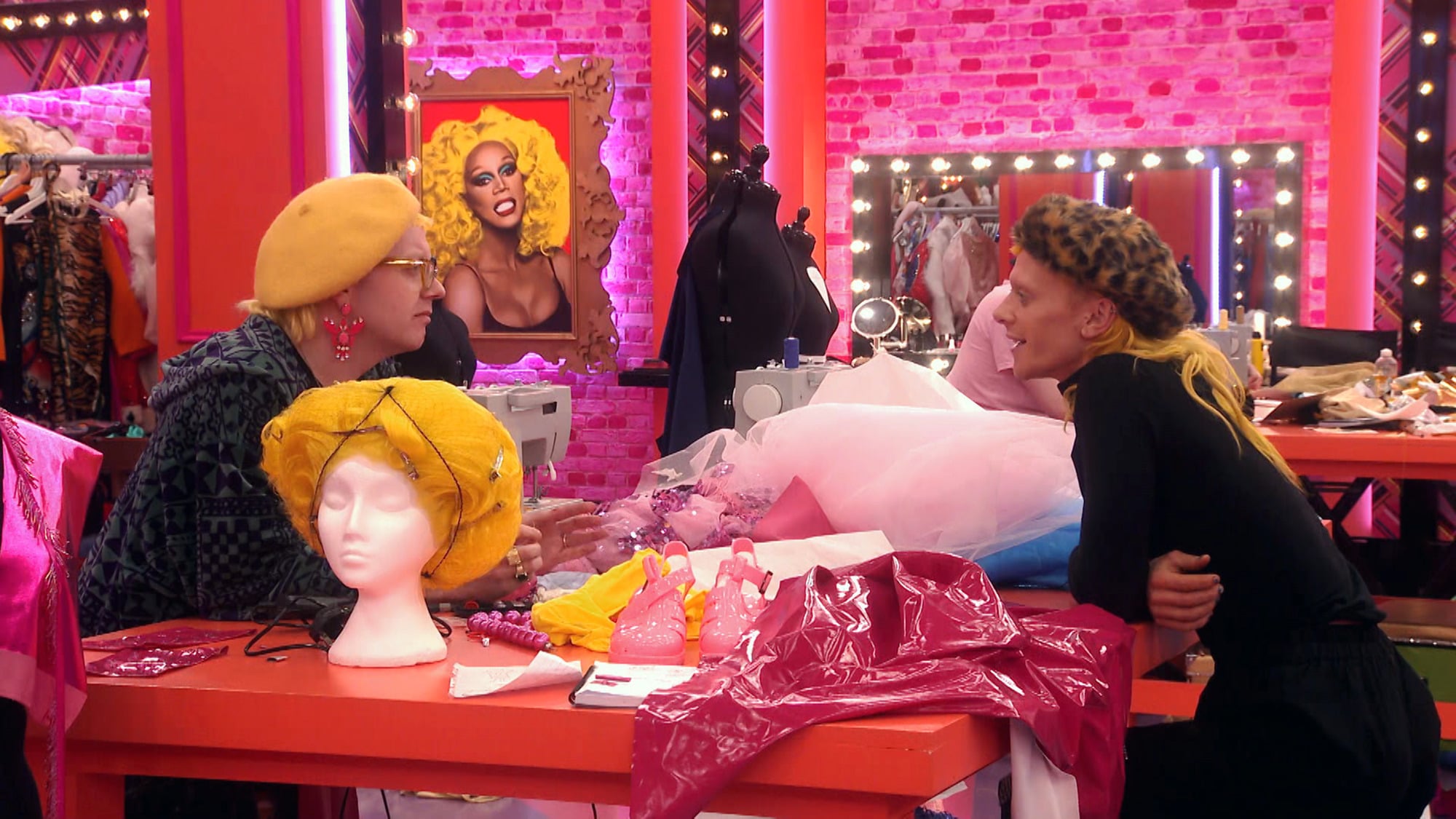 In episode three of series two, for example, we saw Bimini Bon-Boulash from Norwich and Ginny Lemon (hailing from Worcester) share an extremely intimate moment, where they both discussed their experiences of being non-binary, and how the path to self-acceptance has been a long and difficult road for both of them. A tearful Ginny explained that their reason for wearing yellow in their outfits was because "it doesn't define me as anything", confessing that their ability to feel at home in their body was not one that had come easily.
Earlier this season, Cherry Valentine (gone too soon, IMO) also opened up about her struggles with an isolating background. Speaking to fellow contestant Sister Sister, she detailed her childhood growing up in a traveller family, and her decision to pursue drag, despite it being something that not only took her away from her home in Manchester, but that she also couldn't speak to her loved ones about. "I'm really proud of my heritage, and I love my family more than anything," she said. "But it's your life, and you shouldn't live your life for other people."
A'Whora could also relate to the loneliness of trying to carve out a drag career outside of London, tearfully opening up to Tia Kofi in episode four, about how being a Northern queen meant accepting that your circle and support network is smaller than those who are performing in London. "It's wild to actually be able to speak to drag queens," she said, apologising to Tia for her behaviour toward her during this season, while admitting that "I don't have many drags friends, I don't have a drag circle ... and I do all my gigs on my own." This eye-opening acknowledgement of the struggle of queens outside of London emphasises the importance of showing stories from all over the country — a feat that series two is trying hard to pull off.
Being able to speak to the lived experience of those who are part of the drag community, while also tackling issues that apply to not only Londoners but to the UK as a whole, is a unique and magical aspect of Drag Race that goes beyond the fantastical costumes and jaw-dropping makeup and hairstyles. Representation of those who grow up not seeing their identities explored in the media — who are lead to believe that everything happens in large cities — is important in giving viewers the ability to project and understand their own experiences. Series two has already given us some moving and necessary stories, exploring little-known areas of the England, and bringing in the Scottish queens Lawrence Chaney and Ellie Diamond — and there is still so much more to come.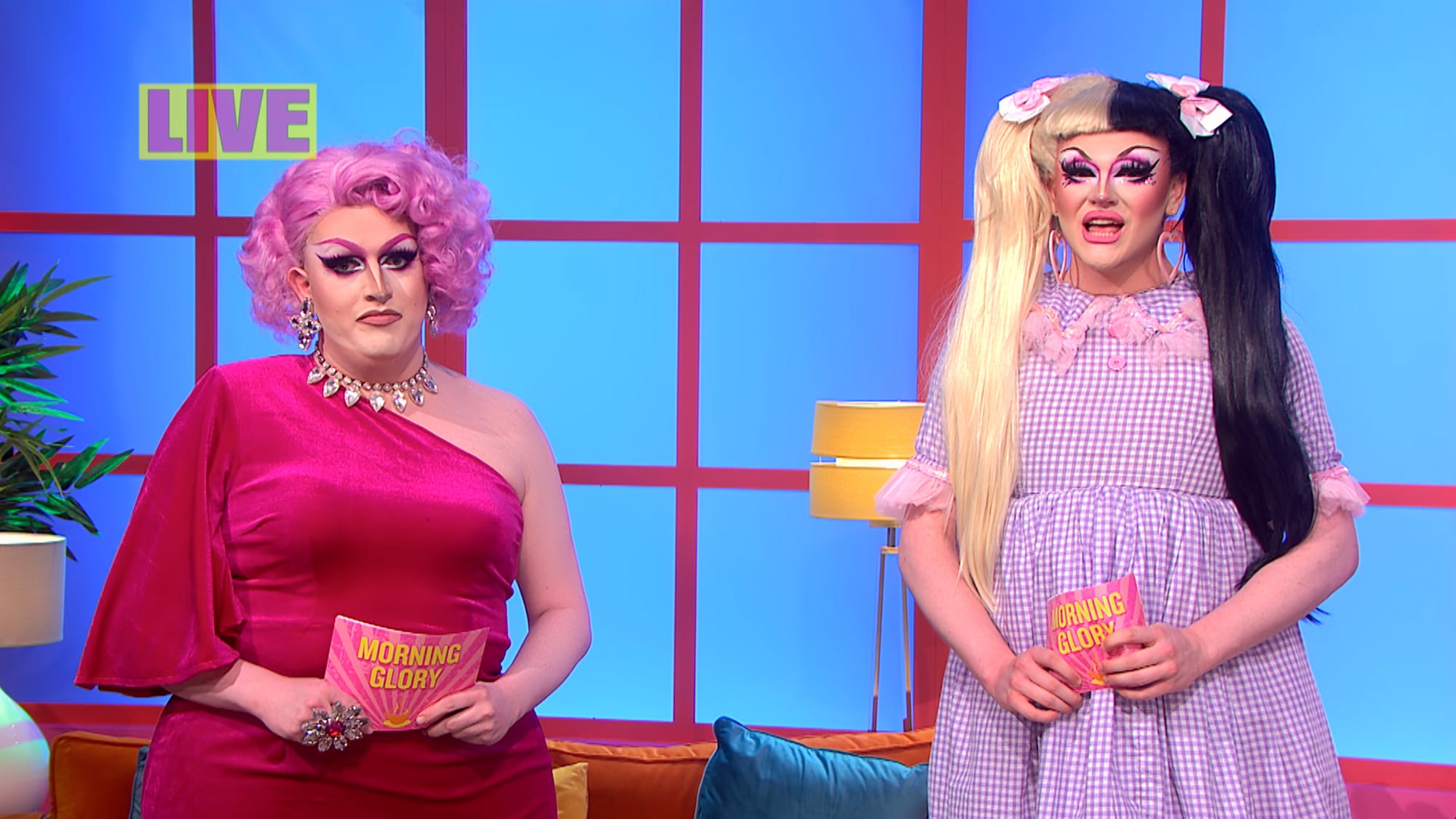 Image Source: BBC Pictures