Reactions to Sainsbury's Christmas Ad Prove UK Racism Exists
The Sainsbury's Christmas Advert Reactions Prove That UK Racism Never Ended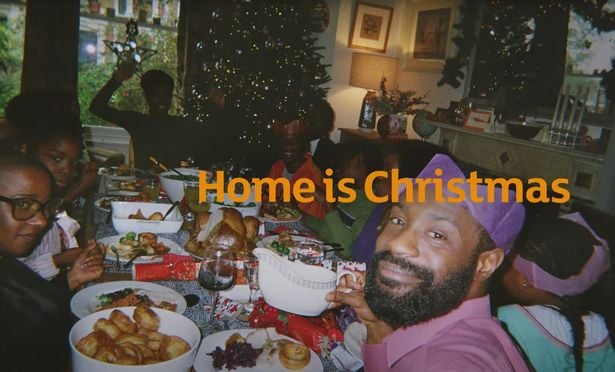 Come mid-November, we sit with bated breath as we anticipate which of our most-loved retailers will have the ability to move us to tears in their 60-second rendition of what Christmas means to them. As their popular festive adverts tug at our heart strings with an amalgamation of nostalgia and animated animals, the Christmas dinner at the centre of the 2020 Sainsbury's advert left an alarming taste in peoples' mouths. Unfortunately, it wasn't due to the addition of Brussels sprouts but the mere fact that the family just so happened to be Black.
In a flurry of racist tweets, people threatened to boycott Sainsbury's, deeming the advert "disgraceful, disgusting, shocking" and "absolutely sickening" because Black actors were cast to enjoy a seemingly relatable Christmas experience. Frankly, no Black person or POC needed to see comments or tweets to validate their inherently racist experiences, but the proof is in the (Christmas) pudding, and perhaps the bittersweet silver lining is that these vicious online comments now act as evidence for when the ignorant proclaim that there isn't a race problem in the UK.
For the Black British community, this year has been one of the most fraught and emotionally taxing. As we watched from across the pond while innocent people who looked like us were slaughtered in broad daylight or in the presumed sanctity of their own home, the reverberations of an apparent awakening allowed us to finally discuss our own lived experiences with racism in a country that often refuses to accept its own history. The stoic "stiff upper lip" stereotype and "I'll just pop the kettle on" mentality led us here, because it's far easier to sip on a freshly brewed cup of tea than be confronted with the barbaric truth surrounding the path to the supposed greatness of Great Britain.
Due to overwhelming gaps of British history in the UK curriculum, more emphasis is placed on memorising the marital status of Henry VIII than the significant contribution of Black people to this country. Although Dr Shola Mos-Shogbamimu said on This Morning that, "it is not the job of Black people and ethnic minorities to educate white people on racism perpetuated by white people," while education may begin at home, the erasure of Black history in the education system itself is failing Black people. The compulsory teaching of history ends at 14 years of age, and according to data collected by Impact of Mission, less than 10 percent of students who continue to study history for their GCSEs are taught about the role of slavery in the British Industrial Revolution. That isn't to say that Black people didn't have a presence in the UK before Britain's colonial rule, but the imperial reign is at the core of why the UK has a rich and diverse multicultural makeup.
Despite several campaigns and petitions launched to include Black British history into the curriculum, the demands have been met with silence. The unwavering reluctance to acknowledge the truth of the British Empire is fatally damaging because the repercussions are felt today. This constant and conscious blackout of Black history is the same education system that teaches our Prime Ministers, MPs, policemen, and countless other positions of power. Boris Johnson himself wrote in his Telegraph piece that "we need to address the present, not attempt to re-write the past." Nobody is calling to rewrite the past, but we must address it to fully understand the present. If to some extent racism is bred from ignorance, how can white people empathise with POC if they are seemingly unaware that the UK's current power and wealth status is a direct result of the rape, murder, pillaging, destruction, and destabilisation it inflicted all over the world for centuries? Ignoring the facts doesn't alleviate the shame — it compounds it.
More often than not, the depiction of current anti-Black racism is through the lens of America, but the Black British experience is nuanced. It isn't the constant police brutality that we so often witness in the US (although, our police system also has blood on its hands); it's a subtler violence and passive-aggression that bubbles in the underbelly of society and spills over more explicitly when it reaches capacity. On one end of the racist spectrum, it's the 24,000 complaints to broadcasting watchdog Ofcom after Diversity's BLM-inspired dance routine and tweets about Black families on Christmas adverts. On the other side, it's the worrying statistic that in 2019/2020, racially motivated hate crimes rose by 6 percent to 76,000 reported cases, even during a government-induced lockdown, which the Home Office have said is most likely linked to Black Lives Matter protests.
"Why cast a Black family instead of just a family?" was one such tweet that conveys the incessant reduction and belittlement of Black people in this country. We may finally have a morsel of media representation, but the systems are not for us — they never have been. It's why over 75 percent of Black people in the UK do not believe their human rights are equally protected compared to white people, according to a recent report from the UK Parliament's Joint Committee. Given that the maternal mortality rate for Black women is five times higher than white women, Black people are 9.5 times more likely than white people to be stopped and searched by police and account for 7.7% of the prison population despite only 3.4% of the UK as a whole — we are not by any means taken aback that those around us are slinging racist remarks online because of a Black man yielding a gravy boat.
Perhaps it isn't the representation that racists find so triggering but the use of Black people being centred in a positive and uplifting context. Presumably if the Black family were the face of an anti-drug or knife-crime campaign, it wouldn't have been an issue, but as this was Christmas, it was implausible that any other race should have been portrayed. A Christmas dinner is an edible metaphor of how harmonious a multicultural society could be, given the right balance of preparation and leadership. It's the perfect fusion of contrasting flavours, textures, and trimmings in which the contribution of one doesn't outweigh the other.
The diversity and representation in the Sainsbury's advert, much like the JD Sports and Amazon offering, has been overwhelmingly well-received in the Black community because we finally get to see ourselves. But a visceral reaction to a television advert changes nothing until Black people are represented within organisations of power and influence. The public outcry of those that "don't see colour" has become so deafeningly loud, and although they may be dreaming of a white Christmas, the ones I used to know, and always will, include Black people.
Image Source: Sainsburys