The Shadow and Bone Cast Discusses Character Relationships
Jessie Mei Li, Ben Barnes, Freddy Carter, and Amita Suman Discuss Their "Shadow and Bone" Romances
Watch out! This post contains spoilers.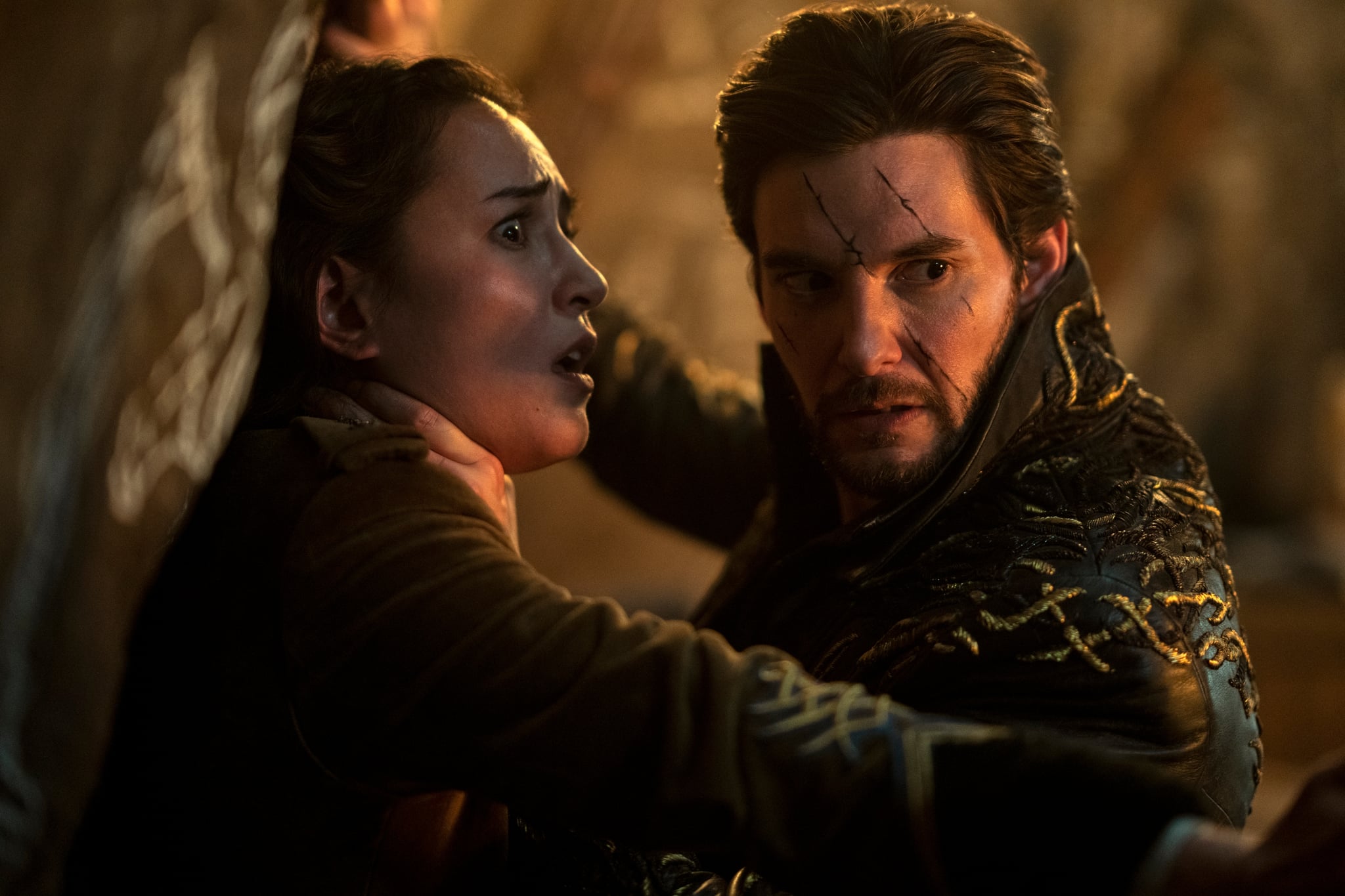 Jessie Mei Li and Ben Barnes may play mortal enemies on "Shadow and Bone," but both of them admit that their characters' relationship is just a little more complicated than light versus shadow. By season two, which hit Netflix on March 16, their characters Alina and General Kirigan — who once seemed poised to become Ravka's most powerful couple — are locked in a bloody power struggle, but they still find themselves linked by a peculiar connection.
"They're two summoners — two sides of the coin — but then they're also, in season two, essentially archnemeses. It's a really interesting relationship," Li tells POPSUGAR of their characters' fraught bond. Both characters are capable of watching each other and appearing to one another as hallucinations and in dreams throughout season two, which has to be one of the worst bonds one can have with a toxic ex.
To Barnes, Kirigan continues to haunt Alina not only because she's a threat, but because he still has lingering feelings for her. "He's trying to understand why this woman has an effect on him in a way that other people don't," Barnes says. "He asked a question of her at the beginning of the season, in one of [her] dreams: what are you willing to sacrifice to meet your goals? It starts to become a question that he asks himself as well. I think that question is wrapped up in how they connect with each other, because she does, somehow, subliminally become something that is very important to him — but she's also antithetical to what he thinks he's trying to achieve. I think whilst the relationship becomes nasty and toxic and full of rage and we're not pretending there's any kind of brewing love chemistry anymore, the feelings are complicated."
Despite how different their goals are, the pair remain connected by the fact that they're the only two people of their kind in the world. "He sort of says these cliché things — he doesn't say them as clichés, but he thinks these things like — I can see myself in you," Barnes says. "That's always a bit of a roll-your-eyes moment in in any kind of story, but what's interesting about our story is that sometimes those things turn out to be right." In short, Barnes says, the pair are linked forever, like it or not. "It's like a bickery old marriage," he says. "Kind of like us in real life," Li quipps.
Alina and General Kirigan aren't the only characters who have complicated relationships in "Shadow and Bone." Kaz (Freddy Carter) and Inej (Amita Suman), two of the most talented criminals in Ravka, exchange more than a few longing looks over the course of the show's two seasons, though of course, actually getting together poses an extreme challenge for them. "They want to be together, but they can't, and that's why it's so complicated," says Suman. They aren't separated by opposing visions for the future of Ravka, as Alina and Kirigan are — instead, both of their characters' traumatic pasts create a fear of intimacy that is impossible for either to breach.
Because they've both been burned so many times, the way Kaz and Inej come to rely on each other feels even more significant. "There's an unspoken trust," Carter says. "Because they work together in a gang, they'd take a bullet for each other. They'd kill for each other, and they both know that, but could never verbalize it."
For Kaz and Inej, though, being honest about their feelings — let alone being physically intimate — is far more terrifying than any near-death experience. "To go to any next stage, they'd have to be able to speak more freely about what it is that they feel for each other. That, maybe less so for Inej, but for Kaz, is certainly not a possibility at the moment," Carter says. Both deeply emotionally and physically traumatized, Kaz and Inej understand why the other fears intimacy so much, which is the source of their bond as well as the thing that keeps them apart.
Kaz and Inej aren't the only characters that seem to have unspoken, slow-burning feelings for each other. Prince Nikolai (Patrick Gibson), who rescues Alina and Mal (Archie Renaux) at the start of season two when he's still pretending to be a privateer named Sturmhond, initially devises a plan to marry Alina for political reasons — but somewhere along the way, feelings start to materialize. "Immediately, he's so captivated by this person who's just so incredibly powerful," Gibson says. "He's heard so much about her and when he first meets her, I think he's kind of starstruck, and I don't think there's many people who can make Sturmhond starstruck. She's so magnetic and so good and benevolent and has had to make so many sacrifices in her life, and I think he relates to that as well. I think he doesn't allow himself at first to fall for her, but it becomes harder and harder."
"I know that Jesper's very protective of Wylan, as Kit is of Jack."
Alina's relationships with General Kirigan, Mal, and Prince Nikolai are complicated, to say the least, as is Kaz and Inej's connection. But — perhaps to make up for all the toxicity and unsaid words festering elsewhere in the show — "Shadow and Bone" season two does give us one couple that seems to have a genuinely healthy connection: fellow merry gangsters Jesper (Kit Young) and Wylan (Jack Wolfe). The pair hook up in season one, and when Wylan joins the Crows in season two, at first he and Jesper try to ignore what happened, though ultimately feelings break through somewhere in between all the explosions and gunfights. "I don't think you'd naturally put them in a pair, but when they open their mouths and they speak, there's a shared language and a shared understanding," says Young. "I think it's a real, genuine care. They want to look after each other and protect each other. I know that Jesper's very protective of Wylan, as Kit is of Jack," he adds with a laugh.
"It's oddly quite a safe, healthy sort of bond they share, amongst the utter chaos of the Grishaverse," Wolfe echoes. "They're able to engage in what is quite a joyful, lovely time, and [they're] protective. I guess they're both in need of that. They're both very damaged, especially with trust, and they're both coming from very difficult beginnings, [but] they are able to find homes and safety within each other amongst this wildness."
"Shadow and Bone" season two is now streaming on Netflix.