Sherry Cola on the Joy Ride Cast's Real-Life Friendships
The "Joy Ride" Cast Are IRL Friends. Sherry Cola Gave Us the Lowdown.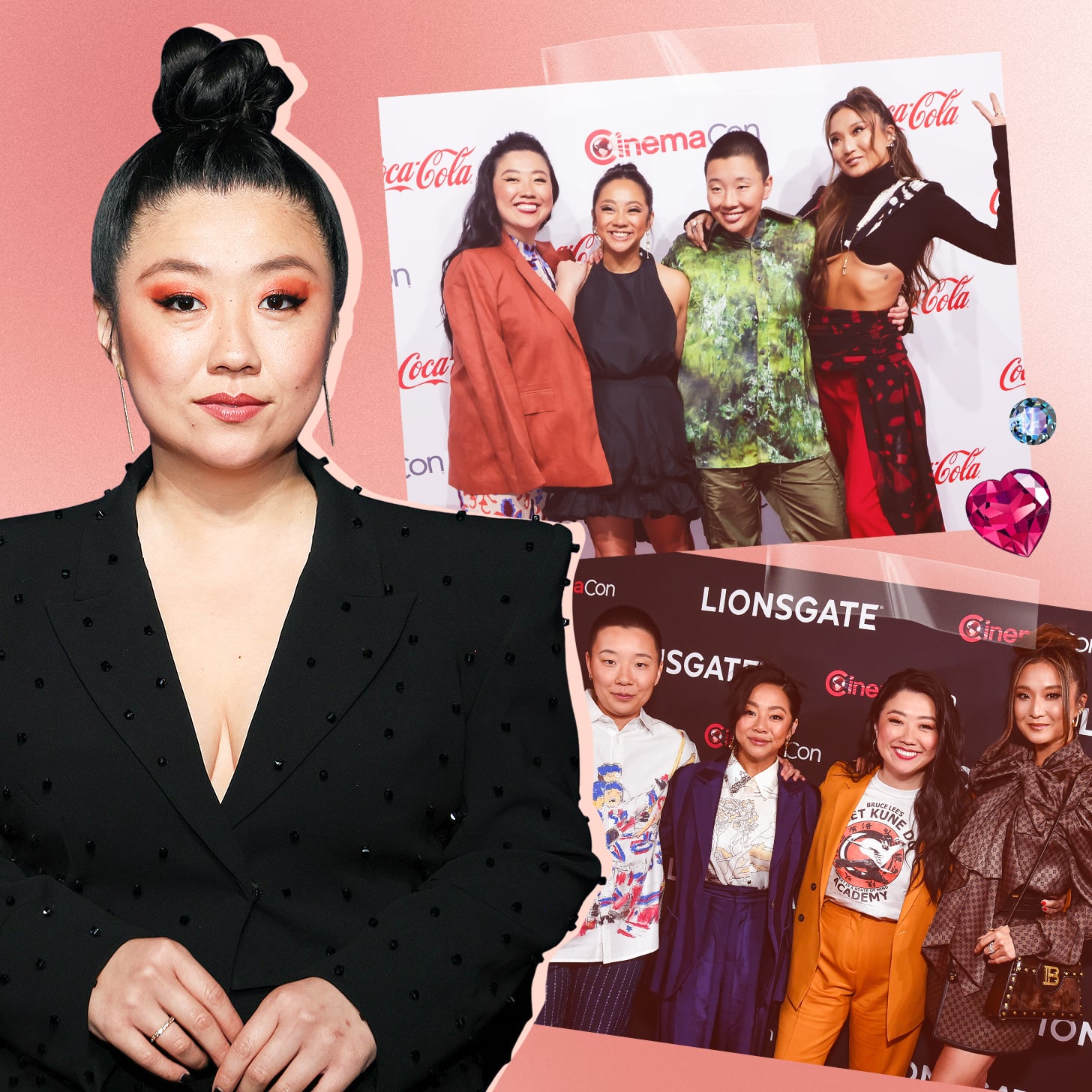 Image Source: Getty / Rodin Eckenroth, Greg Doherty, Alberto E. Rodriguez / Photo Illustration by Aly Lim
From day one of filming "Joy Ride," Sherry Cola, Ashley Park, Stephanie Hsu, and Sabrina Wu stepped onto set as a family. Dropped into the middle of a whirlwind drug smuggling operation in the film, the cast found themselves in the wilderness, laughing and screaming as they painted a chaotic story of found family and friendship.
Their own friendship was forged during late-night shoots in the freezing cold and long afternoons spent rehearsing their K-pop choreography. "We're all just, like, so chaotic in the best way, you know. We all speak the same language of chaos," Cola tells POPSUGAR as part of our APIA Heritage Month package celebrating friendship. "I really hope there's a gag reel because we couldn't stop laughing. There are so many moments that I just remember, like, not keeping it together."
For Cola, who plays LoLo, the best friend of Audrey (Park), in the movie, two things were obvious as soon as filming began: "Joy Ride" was going to make history for its representation of Asian American women, and the connections the cast made behind the scenes were going to last a lifetime. "It just felt so cohesive and telepathic to a point where the four of us had our own unspoken language, which was really beautiful," Cola says. "This was a match made in heaven."
"It's just been love. It's been all love since day one."
Two weeks before filming began, Cola, Hsu, Park, and Wu dedicated time to their offscreen relationships, bonding over their shared love language: food. Their individual friendships, though, began years before their names made it onto the same call sheet. "She completely blew me away," Cola says of the first time she saw Hsu on an episode of Awkwafina's "Nora From Queens." A few days later, the universe worked its magic when Cola and Hsu ran into each other in the lobby at a CBS showcase for the series. "Stephanie will always say that I was her first friend in LA, and I've always been an advocate for sisterhood," Cola says, adding that Hsu had moved to LA only two days before their chance encounter. As she describes the friendship: "It's just been love. It's been all love, since day one."
After praising Hsu's performance on "Nora From Queens," Cola invited Hsu to a dinner for Asian actresses at Capital Seafood, a local Chinese restaurant. "That's where our friendship kind of started, and we've been just in touch and rooting for each other ever since," Cola says. "We were even texting each other, I believe, during the audition process of 'Joy Ride.'"
The audition process was also the setting for Cola's first encounter with Wu. Like two family members reuniting after years apart, Cola says that she felt immediate "baby cousin energy" toward Wu, who plays Deadeye, her character's cousin in the film. Though "Joy Ride" is Wu's first acting role, Cola says she had "no notes" for her costar, adding that their chemistry onscreen was just as seamless as their real-life bond. "This is a family affair; this is like ride-or-die, thick-and-thin, in-it-for-the-long-run family," Cola says.
When it comes to her friendship with Park, Cola says they have social media to thank for their origin story. Following the Atlanta shooting on March 16, 2021, which killed eight people, six of whom were Asian women, Park and Cola were both outspoken about how tragic it was for the Asian American community. "We had both been very vocal after the Atlanta shooting because that affected our community so much, and we were both so devastated and so fired up to speak up about it," Cola says. "The ripple effect of the videos that we both posted made us comment on each other's posts and follow each other."
Bonded by their shared devastation, the pair kept in touch for years on social media. It wasn't until nearly two years later that they met in person during the months-long audition process for "Joy Ride." Once they both finally booked their roles, Park and Cola skipped the formalities and met up at In-N-Out on Sunset Boulevard for their first one-on-one hangout. "We were there for like three hours, just getting to know each other, because we were about to play best friends," Cola says. "Immediately, Ashley and I just had this alignment, like, we operate the same. It's so hard to explain, but we're just with it; we get it; we're eye-to-eye in a lot of ways. I think our chemistry is very obvious on the screen, in real life, when we're both together. The four of us are just so cohesive."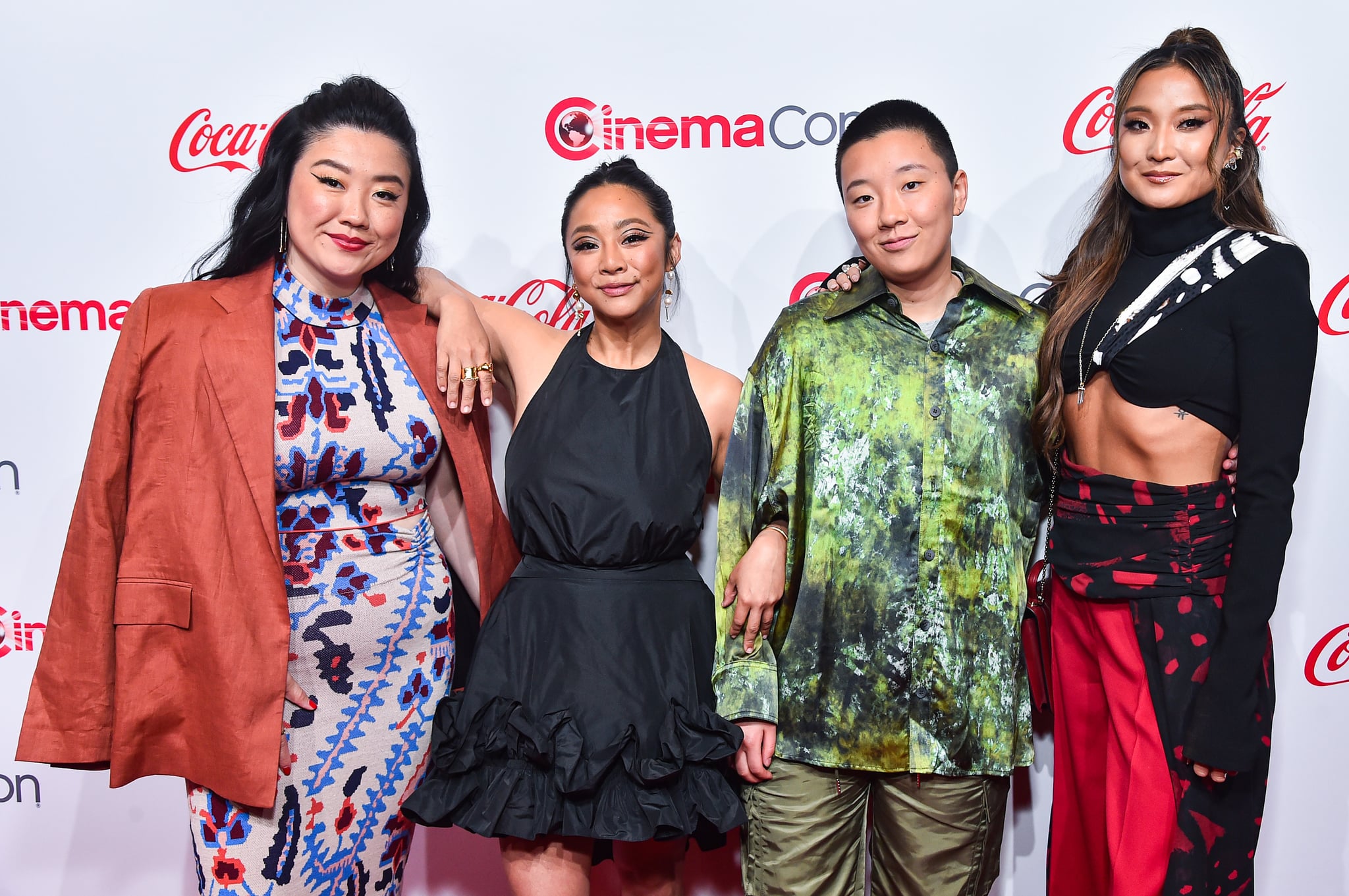 Image Source: Getty / Alberto E. Rodriguez / CinemaCon
That cohesion also meant that a seemingly lighthearted film is shaping up to be a historic moment for Hollywood, Cola notes: "One of the biggest takeaways is the bond between the four of us because we just experienced this thing for the first time together." The "thing" Cola is referencing is the rarity of starring in a mainstream Hollywood film with four Asian women and nonbinary leads. "There really is room for everyone, and I can say that now because you know I'm always operating from a state of abundance and not scarcity," she says.
"I feel really lucky that I'm in the industry right now where we are putting competition behind us and we're just supporting each other."
On principle, Cola rejects the idea that women and underrepresented groups need to tear each other down to build themselves up. She acknowledges, though, that this shift in Hollywood's culture has been a massive undertaking led by generations of marginalized actors. "Back in the day — when there were less opportunities, and Hollywood was even more toxic — Asian actors and Asian women, specifically, were forced to elbow each other to the top," she says. "Nowadays, we're seeing that shift. We're seeing the fight and we're seeing that collective group project energy. I always say it's a group project, because we're really all in this together, and we realise that we're stronger together; we can't settle for anything less than what we deserve."
She continues, "It's because of the trailblazers whose shoulders we stand on that I'm able to amplify my own voice and other voices today, you know? I feel so grateful and fortunate that — because of the inspiring icons like Michelle Yeoh, Margaret Cho, Lucy Liu, Sandra Oh, Ming-Na Wen, etc. — I'm able to now just carry that energy of just making sure everyone gets some shine."
Rather than being forced to elbow each other out of the spotlight, Cola and her costars instead take moments to bask in one another's talent and enjoy their time at the top together. "I feel really lucky that I'm in the industry right now where we are putting competition behind us and we're just supporting each other and rooting for each other and uplifting each other," she says.
As multitalented actors and comedians, calling the friends "busy" is an understatement. Most recently, Cola has been working on her Freeform series, "Good Trouble," and two upcoming films — "The Tiger's Apprentice" and "Sick Girl." Between filming "Emily in Paris" and "Girls5eva," Park has made time to star opposite Ali Wong and Steven Yeun in Netflix's "Beef," as well as land a role in the upcoming movie "Mean Girls: The Musical." In 2022, Wu, who is nonbinary, received the Just for Laughs New Face of Comedy award for their standup, and they recently landed a main role in Lauren Ludwig's untitled comedy series on FX. Meanwhile, Hsu has enjoyed a historic award season alongside her "Everything Everywhere All at Once" castmates — Michelle Yeoh and Ke Huy Quan, who are also her costars in "American Born Chinese" on Disney+ — and she's set to appear in Ryan Gosling's "The Fall Guy" in 2024.
Though their careers send them across the country and around the world, Cola points out that distance has nothing on a connection as inseparable as theirs. "Geographically, we might be, you know, far away. But mentally, emotionally, spiritually we are intertwined in a platonic 69," she jokes. When they are apart, the friends find ways to keep in touch, namely via FaceTime and their group chat, "Joy F*ck P*ssy." "Once you watch the film, you'll understand the significance of The Kitty," Cola says.
Months out from filming, Cola is still reeling from the knowledge that "Joy Ride" is going to make history, both as a badass comedy about friendship and as one of the first mainstream Hollywood films to feature four Asian women and nonbinary leads. Even as she takes a moment to digest the significance of this achievement, Cola reminds us that "Joy Ride," like a night on the town, is a wild ride best enjoyed with your closest friends.
"It's been a while since an R-rated comedy like this, where you call up all of your friends and you make a night of it," she points out. "It's like an adventure; it's like an escape; it's like a road trip. I suggest being a little tipsy when you go into that movie theatre because it's gonna be just such a fun time." She adds, "I just can't wait for the world to be blown away."