Sinead Harnett New Single Hard 4 Me 2 Love You Interview
Sinead Harnett on Moving to LA, Growing to Love Herself, and Living a Little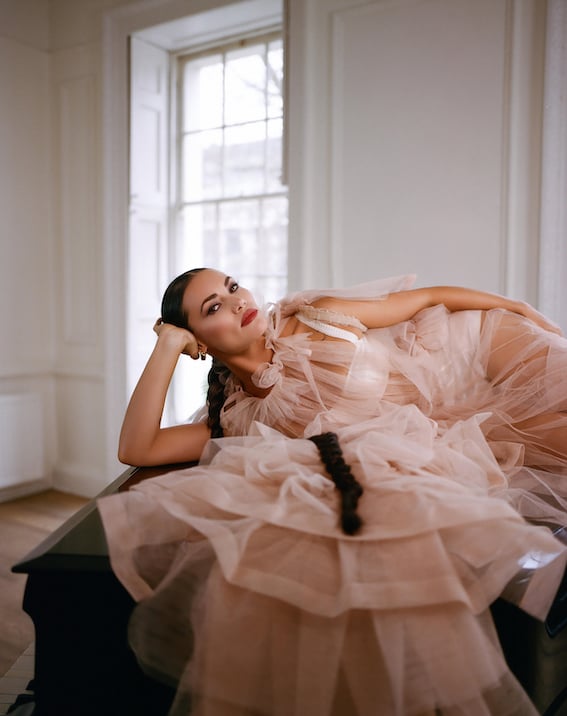 Image Source: Rosie Matheson
Like many of us, Sinead Harnett has pretty much questioned everything in her life during this past year; what really matters, how to use her time wisely, and how she can help the world to be a better place. Prior to the pandemic, Harnett admitted she was "working hard, but not smart, and I just wasn't really living", but after spending four months alone indoors, she started to make some changes. During the pandemic, the singer relocated to Los Angeles, and we caught up with her to talk about the LA lifestyle, writing music in lockdown, and her upcoming album.
Having lived there for over six months, Harnett began to develop a view that the LA lifestyle had its ups and downs. "I feel like for work, it's so good because you're on your own and there's such an energy in the air that's forces you to hustle, but at the same time, you can feel that there's a lot of pain and sadness in the air, too," the singer told POPSUGAR. When it comes to self-optimisation, LA is no stranger to the world of Botox, fitness trends, and health food fads, and in Harnett's view, it can be difficult to stay strong in that environment. "Alterations of self are so normalised there," she explained, adding that "I guess it just depends on you and what your values are. I said to myself before I got there that I've just got to be strong in terms of accepting myself and my skin."
Accepting yourself is no easy task though, and Harnett's time in LA — and many weeks of quarantining — has actually helped her to move further along on that journey. "I probably was a little less comfortable in my skin before I left the UK," Harnett admitted, explaining that quarantining for two weeks alone in another country made a big difference, not only to her personal life, but to her career, too. "Having that confidence helped me to be able to walk into all of these different rooms with musicians I've never met before and say 'hi, this is what I'm doing, this is what I've already made, and this is what I hope to achieve.' Constantly being alone you have to try and big yourself up so that people want to become a part of the project," she told us.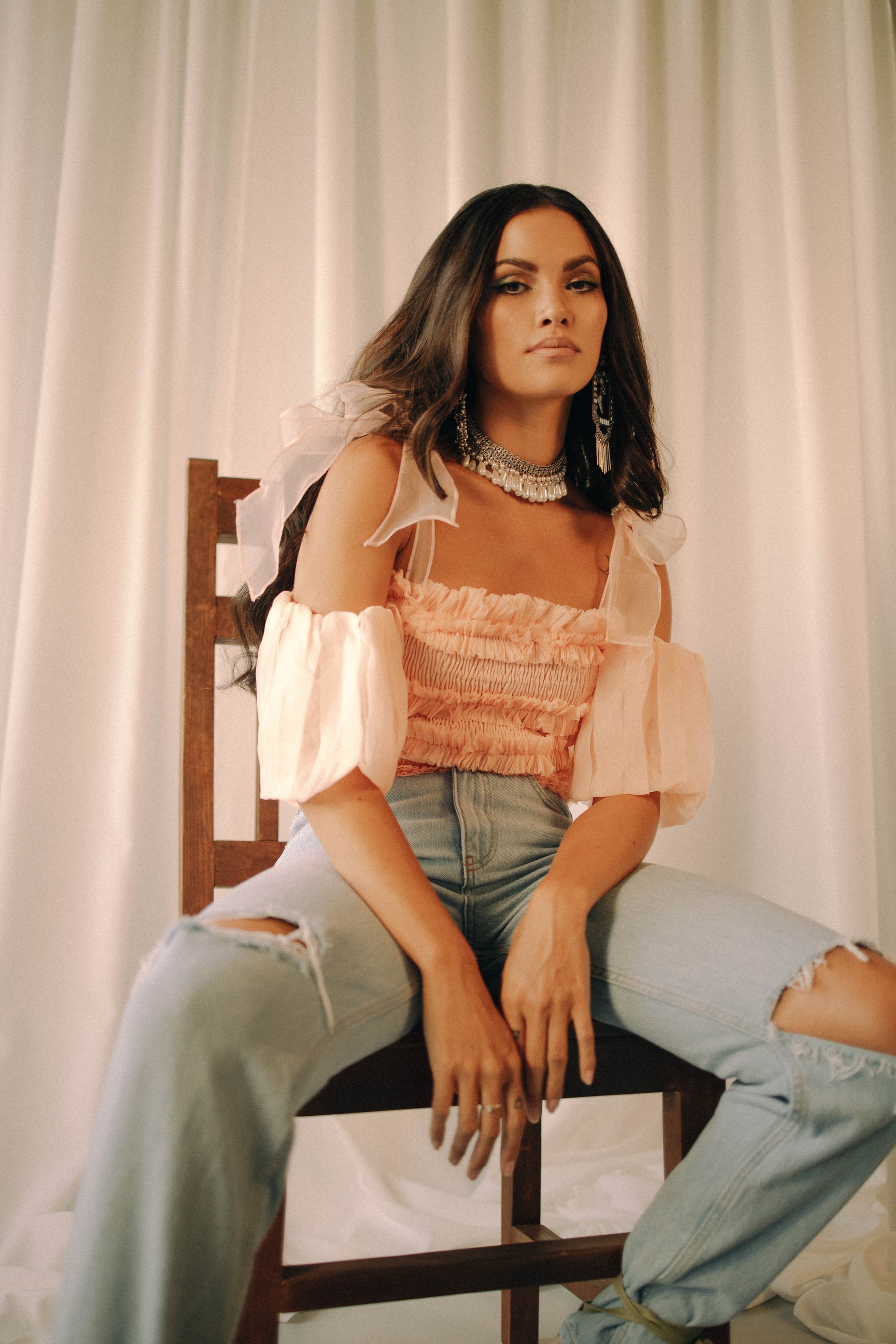 Image Source: Ana Tanaka
Harnett's first album, Lessons In Love, "was about starting to learn to love yourself and being on that journey. I felt like this [next] album is really solidifying that and it's saying 'let's celebrate ourselves', I think that's what America did for it, and what America did for me". Her second single from the album, "Hard 4 Me 2 Love You", comes out today, and despite the romantic connotations of the title, the song is actually about a family member. "I started the chorus after a really bad argument with someone in my family and then I just left it there. Sometimes I don't know if it's going to be something that I put out or if it's just made for the therapy of it", the singer explained, before adding that the track was finished in the US after meeting an Australian producer who fell in love with it.
The rest of the album takes on a more self-assured tone. "On my first album, I feel like I was yearning for something, and trying to get validation or trying to get love. Whereas on this one, it's a bit more celebratory," said Harnett. There's a song on the album called "Stay", which Harnett explained is linked to the idea of self-sabotage. "We've all got this thing where we're not sure if we deserve things that are actually nice", she said, recalling another track, "Like This", which sees Harnett transitioning from saying "oh, I feel so lucky to have you" to "you should feel lucky cause I'm f*cking sick" — an attitude change that we both agreed can be very difficult to make.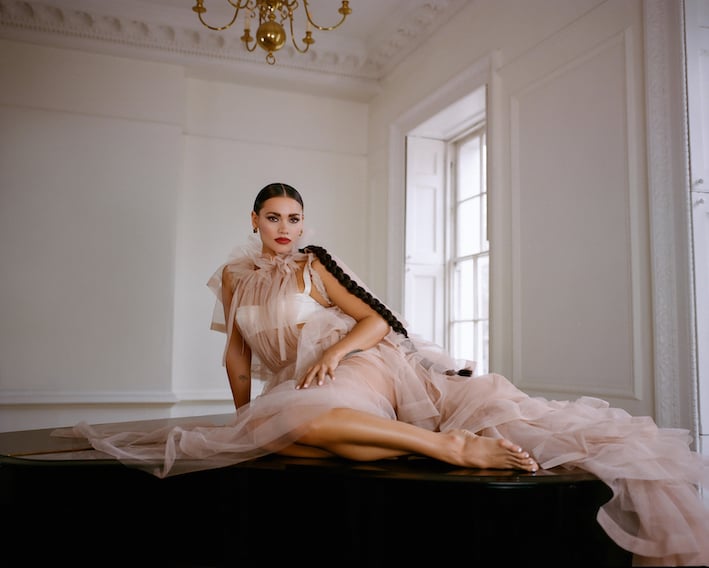 Image Source: Rosie Matheson
The album name, Ready Is Always Too Late, is essentially inspired by the idea that there's no time like the present, something that many of us discovered this week as lockdown restrictions began to ease. "Ready is an excuse. If we keep saying that, then we might never do it," Harnett explained, adding that "growing to just accept and love myself has taken f*cking ages. So I'm not going to keep waiting, I'm just going to do it now because otherwise it's too late. If I don't fight for the respect on my name that I want as a musician, then when is it ever going to come?"
In terms of what's next for the artist, Harnett hopes to use what she's learned this past year and work on changing her life for the better. "If 2020 taught me anything, it was that plans are pretty hard to keep, especially when the world turns upside down. My aims now are just to tour this album, grow the fan base, and make another album after. I really want to be happy, and I really want to live a little. I feel like I need to live so that I have more experiences to write about for album three, and I want to help heal the world somehow."
"Hard 4 Me 2 Love You" is out on Spotify now.
Image Source: Ana Tanaka