Tayce on Life After RuPaul's Drag Race UK
RuPaul's Drag Race UK Star Tayce on Coca-Cola, Making Wales Proud, and Being a Bad B*tch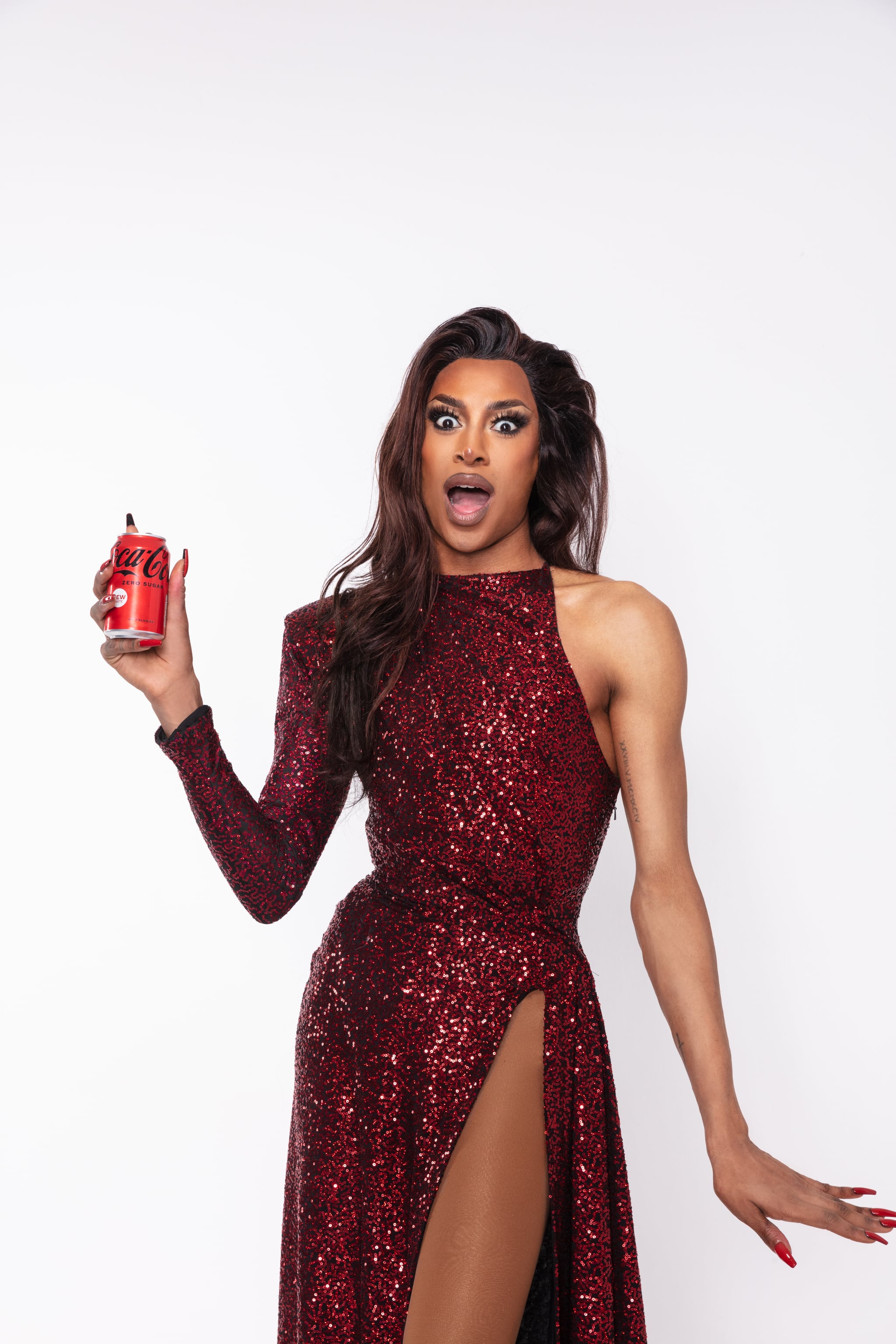 RuPaul's Drag Race UK star Tayce has been pretty busy since she left the competition. Throughout the show she's been known for her witty humour, her flawless makeup, and — most importantly — her love of baked beans.
Since then, she's gone on to work with major drink brand Coca-Cola on their latest campaign. Aside from looking incredibly fabulous in a sparkly red dress, Tayce's role was to perfectly capture the indescribable feeling of drinking a can of Coke, and in our opinion, she nailed it. The Welsh queen sat down with POPSUGAR to talk about the campaign, life after Drag Race, and what the future holds.
POPSUGAR: From Drag Race UK to Coca Cola, your life has changed a lot in the last year! How does it feel to be working with such a major brand?
Tayce: Well you know what, first and foremost who doesn't love the amazing Coca-Cola. They've been around my whole entire life and for them to put me in their campaign I thought wow, what a moment. Queer, black, POC, drag queen out here doing bits. Coca-Cola are absolutely iconic so for them to choose me is a massive honour. I'm over the moon and I just love the indescribable taste of Coca-Cola so I'm happy to represent, muma.
PS: Tell us about your look for this shoot with Coca Cola, the dress and your makeup looks amazing!
T: Well I love that dress. It reminds me very much of Coca-Cola, that red colour, so I thought let's just come out here looking like a big, sexy bottle of Coke! And that's what I was doing you know. It was just such a fun and glam look for such a fun brand.
PS: What was it like on set and to be a part of such an amazing line-up of names?
T: It was really, really fun on set. The energy was up and everyone was in good spirits. I met some lovely people I'd never met before. I saw some friends, like Lady Leshurr, who is also in the campaign, so it was really cool to be working on a shoot with such a great bunch of inspirational people.
PS: It's clear that baked beans are a staple part of the Tayce diet, how do they taste with a can of Coke?
T: Beans and a can of Coke! I mean the flavours are just too good, I'm not even going to describe it. I'm going to leave that to you to figure out for yourself. When you're at home tonight, get yourself a nice tin of beans, get yourself a nice can of Coke, have them together and report back to me!
PS: Do you miss Drag Race? How would you describe your experience on the show?
T: Do I miss it? No I don't miss Drag Race. I'm happy that it's over. Not in a bad way, but I'm happy to just go out into the world and be me, and not just be seen as someone in a competition. I'm ready to go out and compete with life! My experience of the show was pretty good. I made the most of it from start to finish, I covered every base, I saw every challenge, and I didn't get sent home. Had to lip sync four times but I'm a bad b*tch and we love a show, so put me in the bottom baby!
PS: There's been quite a breadth of representation on Drag Race UK so far, how does it feel to be a part of that narrative?
T: Amazing. I mean even just being able to represent the Welshies. There's never been any Welsh representation on the show before so for me to come forward and be that camp old girl is amazing. Back in the day you had your Tom Jones, your Catherine Zeta Jones, and now for the new-age Welshies out there, you've got me to look up to! What more could you ask for?
PS: Finally, do you have any words of wisdom for any aspiring drag queens out there?
T: If you're doing it, make sure you're doing it because you want to do it and not because you feel you need to do it to be relevant in some sort of way. If drag is your passion and it's the route you want to go down, then go for it. There's no wrong turns you can take. Just keep trying and trying and practicing and practicing and owning your craft and eventually, you'll be just like me!
Image Source: Anais Gallagher