Why The Cabins Is Better and More Inclusive Than Love Island
People Wear Real Clothes on The Cabins, but That's Not the Only Reason It's Better Than Love Island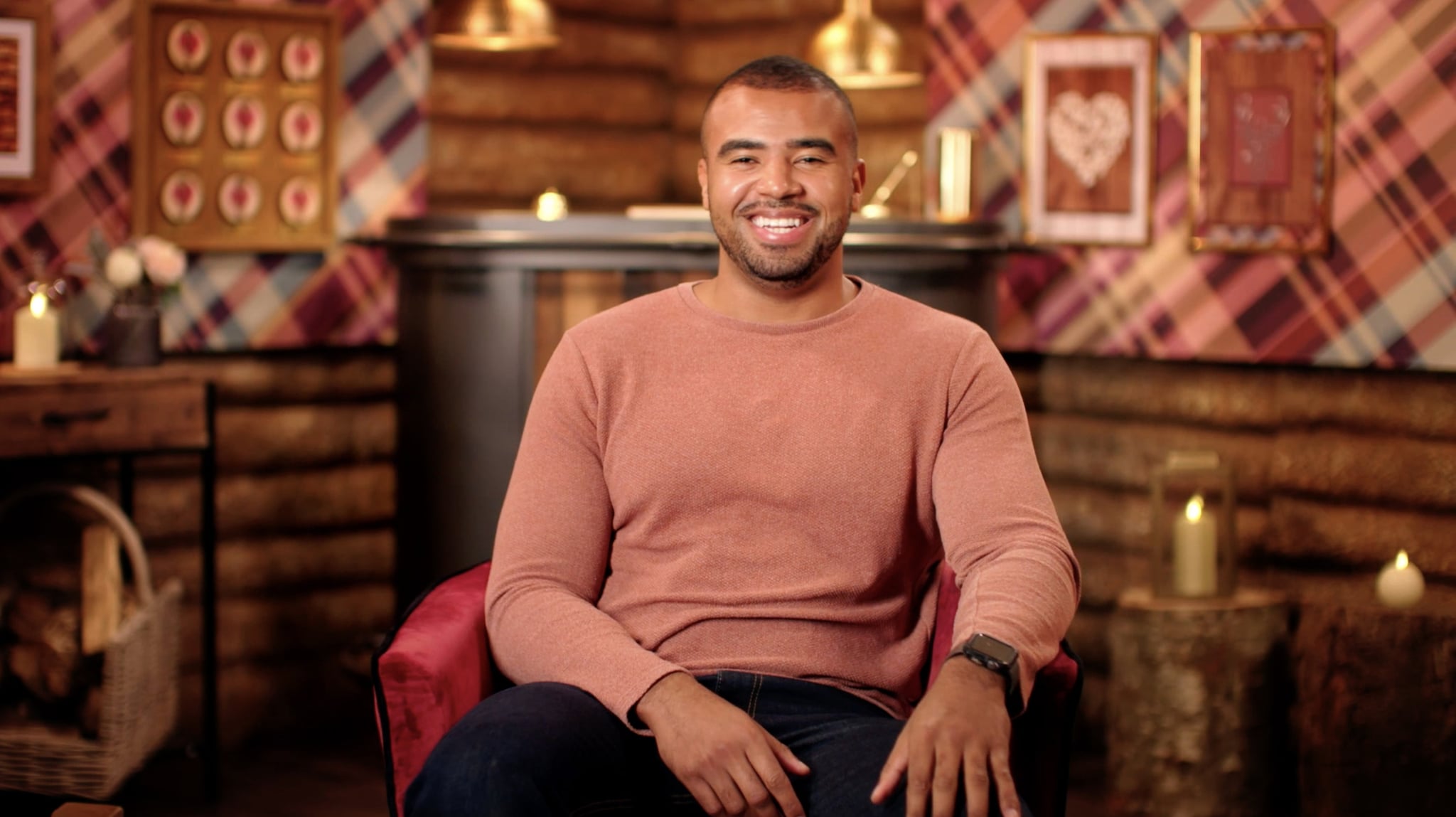 I've seen a lot of people compare The Cabins to Love Island, and I get it. They are both created by ITV and seek to help single people fall in love through heavily produced matchmaking. Truth is, they're very different. Launched in January, there's only been one season of The Cabins, but already, we've noticed key differences between the two reality shows — and they're not just minor differences like one is on a tropical island and the other is in the woods in Cumbria. They're important differences that tackle some of the largest criticisms around Love Island, like inclusivity and the well-being of its cast.
The first difference is that members of The Cabins are not only allowed but are also encouraged to speak to their friends and family whilst going through the experience — hopefully a result of the growing concerns about the mental health of reality-TV contestants here in the UK. I imagine that most other apps and access to social media are disabled and that their conversations are most likely monitored and rationed, but this still alleviates any possible feeling of loneliness or isolation. It's something that can't be said for the eight-week run of Love Island, where the only friends you can speak to are the strangers you share your room with. Perhaps the current pandemic also has something to do with it, as we've all become more aware that a lack of access to our friends and family is detrimental to our mental health, even when we aren't a million miles away from them on a Spanish island.
Secondly, while Love Island claims to help people find love, it's really about the drama that comes with it. Pitting women against each other to compete for one man's affection, enforcing game playing, and introducing attractive new characters at the most seemingly opportune times, The Cabins' predecessor has a far more direct impact on the welfare and well-being of its contestants. Despite the fact that the opportunity to make "lifelong" friends is taken away from them, the contestants on this show are in it for love; they spend a minimum of 24 hours with the person they've been matched with in an arguably more normal setting. They have activities to complete, meals to cook, and time to really get to know each other, without being worried about the next girl who might come in or the next boy who might be a better match for them. There's been no talk of "bullying", like the current concerns with ex-Love Islanders Yewande Biala and Lucie Donlan (despite the fact that their run on the show ended two years ago), and no destruction of girl code, as we previously felt watching Joanna steal Michael's heart (which we all firmly believed belonged to Amber). And you know what? We're all much better off because of it.
In The Cabins, when the 24 hours are up, the contestants are able to make the decision of whether they want to continue spending time with this person or whether they have had enough and want to go home. While I can admit that this format leaves them with a smaller probability of finding a match, this method seems to be the way that keeps them the most sane. There's less gossip, less competition, and, honestly speaking, less unhappiness. When it comes to real people with real feelings, isn't that what matters the most?
The final, and possibly the biggest, difference between the two shows is that The Cabins doesn't discriminate. In three short weeks, we've seen people from all walks of life on our screen, and they don't all have the washboard abs, the tiny bikinis, or the perfectly tanned skin we're accustomed to seeing on Love Island; in fact, most of them don't. In addition to the fact that the contestants frequently wear actual clothing (which already widens the casting pool by a million percent, I'm sure), they also hold seemingly normal jobs like supermarket delivery driver, recruitment consultant, and sales assistant at Build-A-Bear.
They're normal people, and not the Love Island standard of normal, where every girl somehow knows exactly how to do her hair and makeup, most boys have zero body fat whatsoever, and they all have some form of Instagram fame. It's no secret that seeing beautiful people on TV is entertaining, but it's also damaging. According to a study by Dohnt and Tiggemann, as reported in Cosmopolitan, girls who watched more appearance-focussed television shows were less satisfied with their appearance and expressed more of a desire to be thinner. It's no surprise, then, that seeing more women on TV who look like you can only help to alleviate those concerns.
There is inclusivity surrounding not only body image but sexuality, too. The Cabins has had a number of gay couples already, something that Love Island has never done. Granted, the format of this show lends itself to exploring sexuality in a much more fluid way. Because there are only two people in the mix, sexual preferences can be taken into consideration, and it means no one gets left behind, so exclusion isn't really an option.
There's been a real backlash over the years as a result of Love Island's casting not being representative enough (in more ways than one) and concerns over the mental health of its contestants, but it seems like with the introduction of The Cabins, we're finally making some progress. Will it last? Only time will tell.