WandaVision: Who Is Agatha Harkness?
WandaVision: What to Know About Agatha Harkness's Role in the Series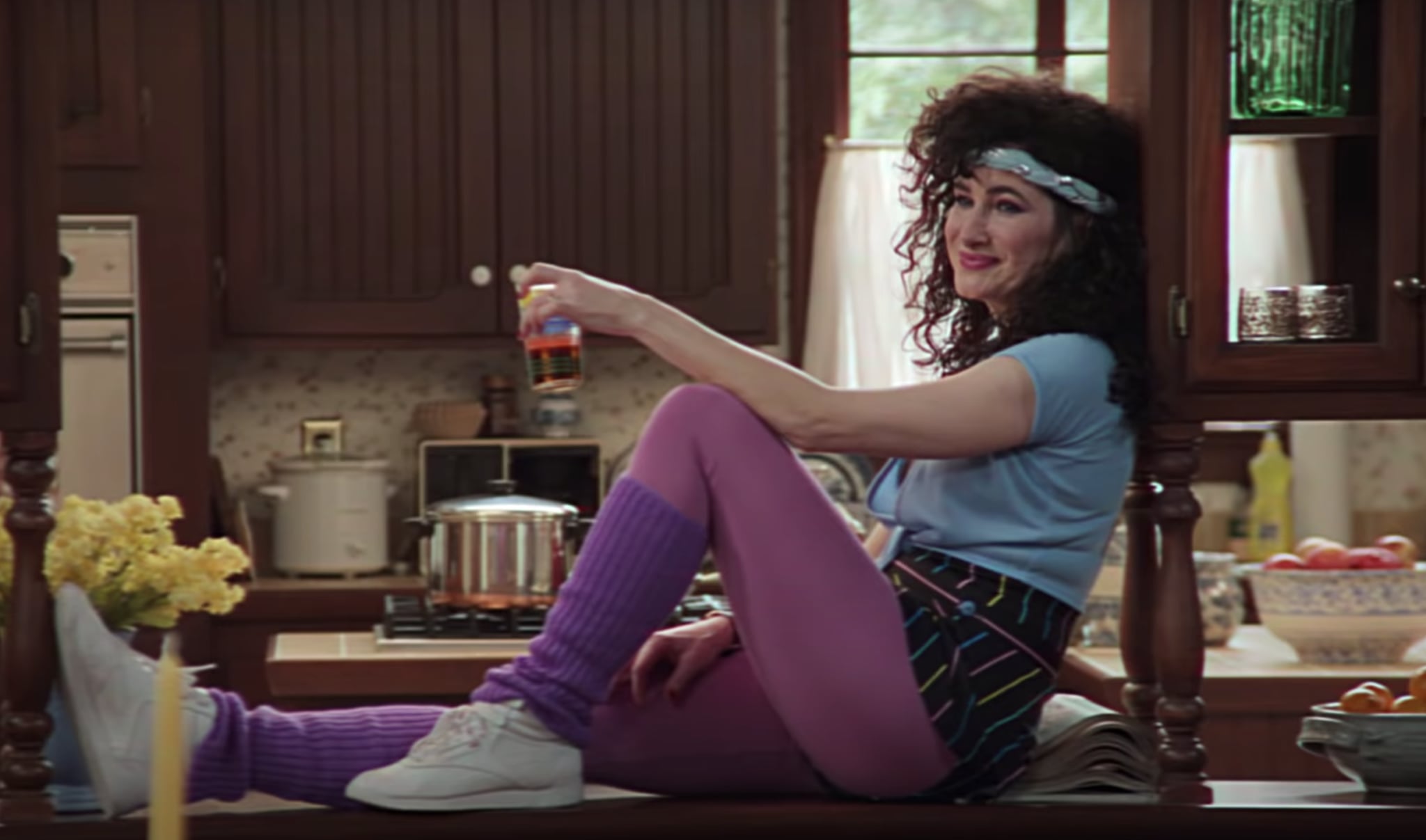 The first trailer for WandaVision is a trippy, quirky ride that has us even more excited for the first Disney+ Marvel show. We're most intrigued by Kathryn Hahn's character, who we're pretty sure is Agatha Harkness, a lesser-known Marvel character. Who is Agatha, anyway, and what's she doing in this show? We've got some answers!
Throughout the mysterious trailer, Hahn appears in what looks like a montage of TV history, including a "nosy neighbour" from a '50s sitcom and, memorably, perched on a counter in colourful '80s workout gear, complete with leg warmers. It's her final appearance, though, that seems to confirm her character: Vision seemingly breaks out of the TV-esque world he and Wanda are trapped in and encounters Hahn again, now in a witch's costume. She asks him if she's dead, and when he replies no, she adds, "Because you are."
Hahn's witchy appearance seems to confirm the popular theory that she's playing Agatha. In the Marvel comics, Agatha is a witch who survived the Salem witch trials and went on to mentor Wanda in the use of her magical powers (whose superhero name, you'll remember, is Scarlet Witch). Unlike many of the other heroes, Agatha's powers are literally magical, rather than based in something more scientific. In the comics, she's also the governess and protector of Franklin Richards, the son of Reed Richards and Sue Storm of the Fantastic Four.
Ultimately, the comic version of Agatha is an ally to Wanda and to the Avengers as a whole, including lending a hand during a crisis involving Wanda's children (it's a long story). Despite that, she eventually meets a devastating fate, killed by Wanda at one point when Wanda loses some of her memories and her sanity. It remains to be seen what, exactly, the WandaVision version of Agatha will be up to, and whether she'll be a friend or a foe to Wanda and Vision in whatever strange reality they're dealing with. We'll know more when WandaVision arrives on Disney+ in December! In the meantime, watch the full trailer below: