We Live in Time Movie: Cast, Plot, Details
Andrew Garfield Gets Hit By a Car in Photos From Set of Rom-Com With Florence Pugh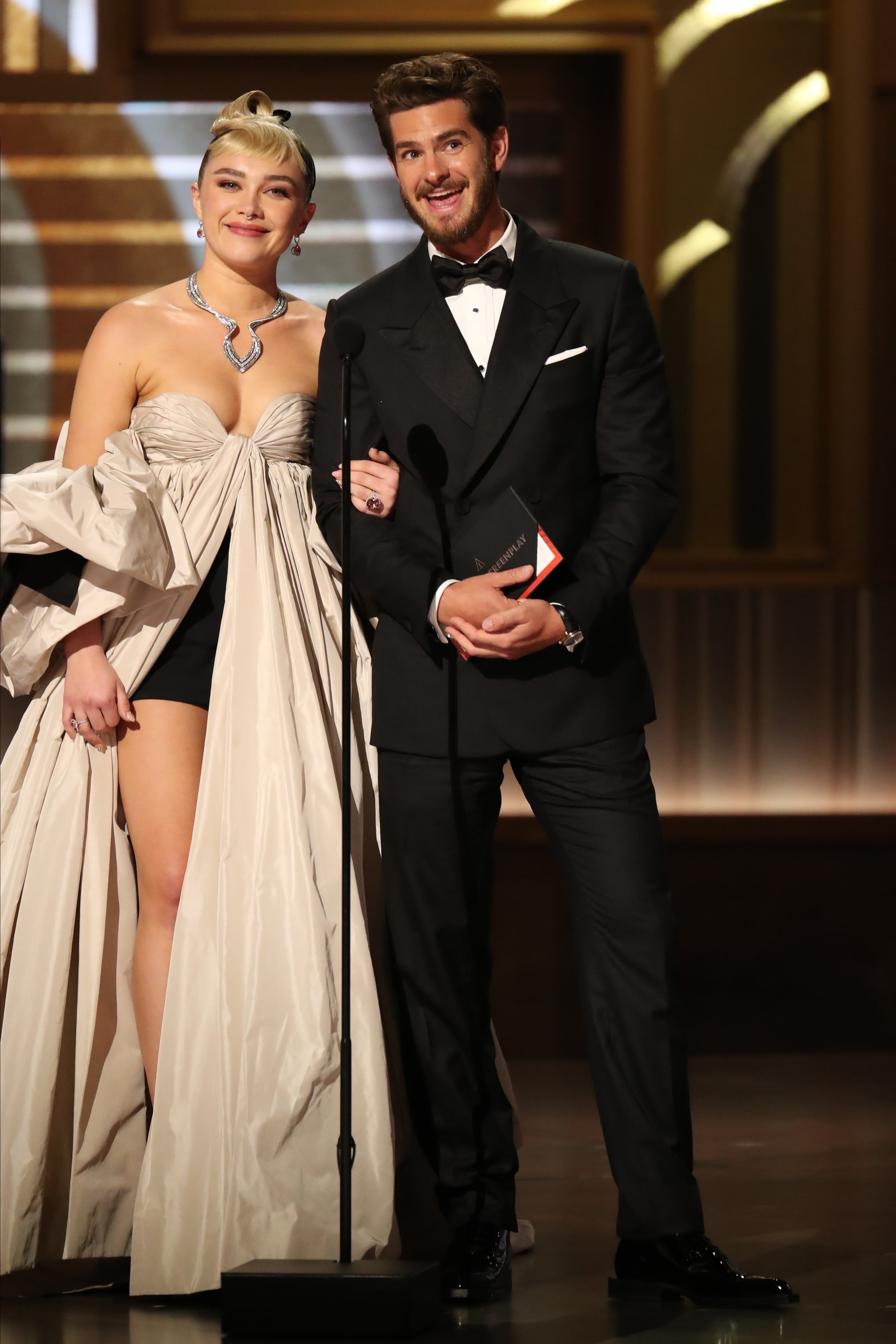 Image Source: Getty / ABC
Andrew Garfield and Florence Pugh went viral after presenting together during the 2023 Oscars on 12 March, when their radiant chemistry onstage quickly fuelled a social media fire, with many demanding that they star in a rom-com together. On 14 March, POPSUGAR confirmed that the pair are turning that dream into a reality with the announcement of their upcoming film, "We Live in Time".
"Pls the way florence pugh walked in holding on to andrew garfield with that music in the background is so royalty," one Twitter user captioned a video of Pugh and Garfield walking onto the stage to present the awards for best adapted screenplay and best original screenplay. Another user began fan-casting the two in an entire multiverse of romantic comedies. "i don't care what the plot is...but elizabeth olsen, pedro pascal, florence pugh, AND andrew garfield in a movie together," they wrote alongside two photos of the aforementioned celebrities. "it could be MY multiverse of madness."
News of the film came when "The Wonder" star was already slated to make several other feature film appearances. Her upcoming roster includes Christopher Nolan's "Oppenheimer," and "Dune: Part 2", scheduled for release in October. Garfield recently appeared in "Under the Banner of Heaven," "Spider-Man: No Way Home," and "Tick, Tick . . . Boom!"
"We Live in Time" Plot
"We Live in Time" is written by British playwright Nick Payne and directed by John Crowley, who previously worked on "The Goldfinch" (2019), and "Brooklyn" (2015). Details about the film's plot are currently being kept under wraps, but Deadline adds that the movie is described as a "funny, deeply moving and immersive love story."
In photos from the London set of the film taken in May, as obtained by The Daily Mail, Garfield jogs alongside the side of the road in a white bathrobe, but once he crosses onto a highway he is mowed down by a car. It's unclear what the jarring moment means in terms of the plot, but it's gone viral on social media.
"We Live in Time" Cast
Pugh and Garfield — the latter of whom quickly became one of the biggest memes at the 2023 Oscars — are appearing opposite of each other as lovers in the upcoming film. Filming is underway, and no additional cast members have been announced.
"We Live in Time" Release Date
StudioCanal has not announced an official release date for "We Live in Time," but we have a feeling that the rom-com will be worth the wait to see Pugh and Garfield's electric chemistry onscreen.