The Vow: Where Is Keith Raniere From NXIVM in 2020?
The Vow: What to Know About Keith Raniere's Current Status After the NXIVM Scandal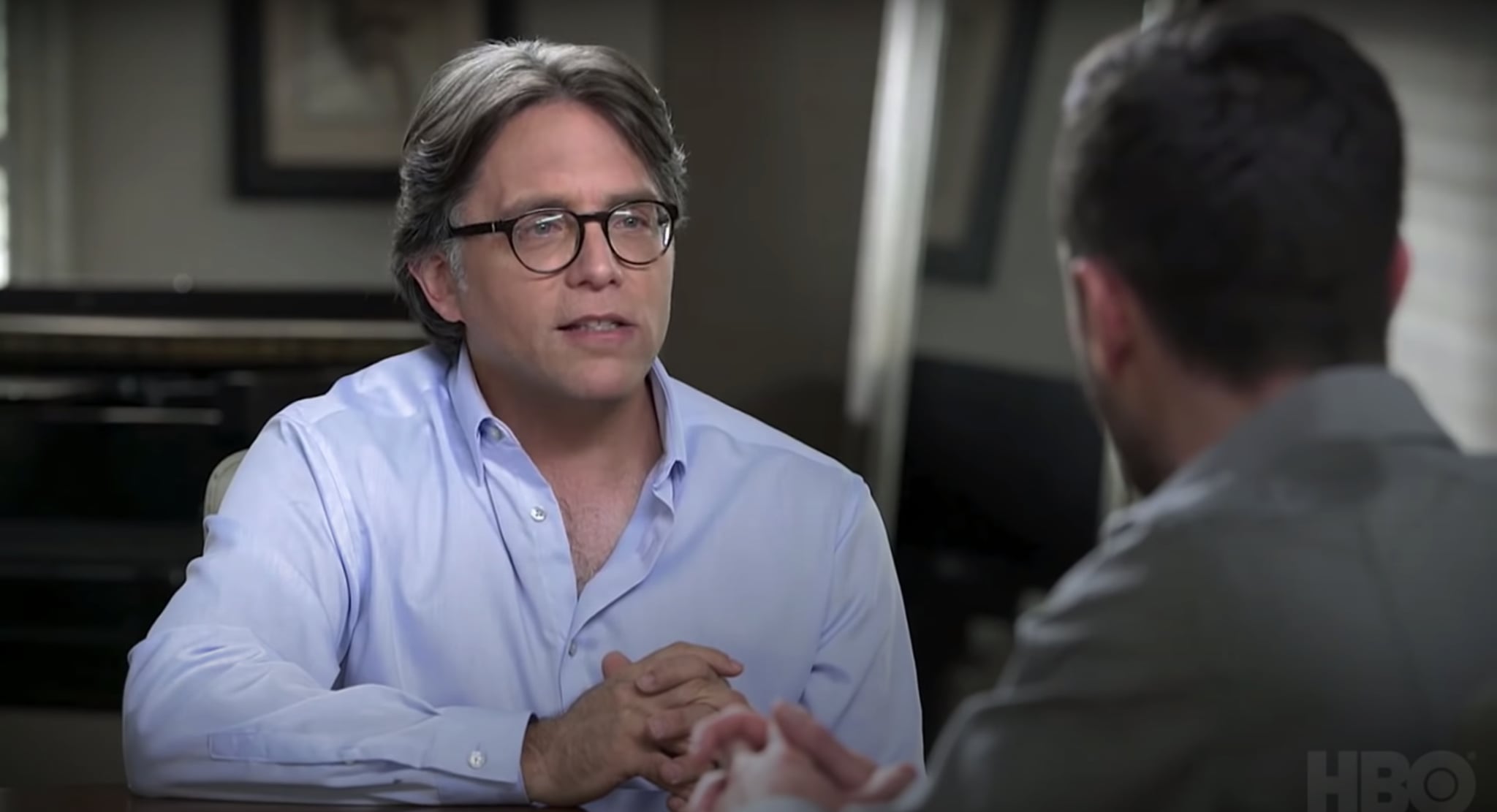 HBO's new documentary The Vow explores the shocking and creepy world of the cult-like group NXIVM and its founder, Keith Raniere. Where is Raniere now, you might want to know? Following the exposure of NXIVM's more horrifying practices, Raniere is finally paying the price for his crimes, although what that price is has yet to be officially determined.
NXIVM was originally founded by Raniere and Nancy Salzman in the 1990s and marketed as a business coaching and self-help company (although it was criticized, even early on, as a potential pyramid scheme). A 2017 New York Times investigation revealed the depths of horrifying things happening under the cover of the "self-help" program, particularly in a super-secret sub-group dubbed "DOS." Victims were told they were being initiated into an empowering sorority, but what really happened was more like a cult: they were forced to give up compromising material such as nude photos as "collateral" that would be released if they revealed the group's existence.
Several women who escaped detailed to the NYT how Raniere "taught" about what he claimed were weaknesses "common to women — an overemotional nature, a failure to keep promises and an embrace of the role of victim." To overcome those, he claimed, they had to form a twisted pyramid of "submission," being recruited as "slaves" and in turn recruiting others to carry out tasks and face severe punishments for disobedience, all eventually answerable to Raniere, called the "Vanguard." At the peak of their initiation, the members reported, they were ritualistically branded with a mark that represented Raniere's initials.
The 2017 report wasn't the first investigation into NXIVM and Raniere; it just happened to be the one that stuck. Raniere and his company faced a slew of questions and lawsuits, including accusations of being a pyramid scheme, starting in the early 2000s. In one 2010 court appearance, ex-trainer Susan Dones testifed that Raniere was preying on his students, manipulating them into sexual relationships, and taking their money to fund his gambling and his attacks on "enemies" of the group, as reported by the Times Union.
In March 2018, Raniere was arrested on several charges, mostly relating to DOS: racketeering, sex trafficking charges and conspiracy charges related to sex trafficking and forced labour. "Keith Raniere created a secret society of women whom he had sex with and branded with his initials, coercing them with the threat of releasing their highly personal information and taking their assets," U.S. Attorney for the Eastern District of New York Richard Donoghue said in a statement, as reported by Newsweek at the time. Several others affiliated with NXIVM, including cofounder Nancy Salzman and high-profile member Allison Mack, were also indicted soon after; many of them took pleas deals and agreed to testify against Raniere.
Rainere's trial took place in May and June 2019. He was convicted on all seven charges and potentially faces a life sentence. However, that sentencing has taken much longer than expected. After several delays, including the shutdown of courtrooms due to the coronavirus pandemic, Raniere's sentencing has finally been set for Oct. 27, Forbes reports. He is currently being held at the Metropolitan Detention Centre in Brooklyn, where he will remain until that sentencing.