2009 Spring Couture: Armani Privé
Spring couture week kicked off yesterday in Paris with a beautiful Dior show by John Galliano. Giorgio Armani continued the season with his own economy defying collection. Much like Galliano, who referenced the golden age of couture, Armani looked to the thirties for influence referencing another time when glamour outshone financial difficulties. There were plenty of red carpet pleasers (expect to spot them at next month's Oscars) including this beautiful one-shouldered red dress. He also drew inspiration from East Asian culture, which could be related to China's growing status in the luxury empire. Armani himself described China as "a dream" and denied that their economic positioning influenced him at all.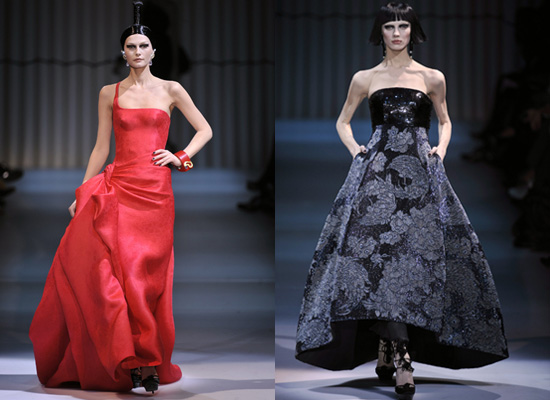 To hear the rest of my thoughts on the collection and for images, just read more.
The Italian designer used luxurious silks adorned with tassles, pointy shoulders and plenty of appliqué. There were glossy elements with wetlook trousers teamed with jackets similar to a martial arts outfit.
Long time fan of Armani, Glenn Close, attended the show and described the collection as "extraordinary." Adding that she was, "Stunned (by) the pure creativity of it, the whimsy, the fantasy, the shapes." Other celebrities in attendance included Prince Albert of Monaco's girlfriend, swimmer Charlene Wittstock and actors Claudia Cardinale and Kirsten Lea.