8 Makeup Tips You Haven't Heard Before
8 Clever Makeup Tips You Haven't Heard Before
As POPSUGAR editors, we independently select and write about stuff we love and think you'll like too. If you buy a product we have recommended, we may receive affiliate commission, which in turn supports our work.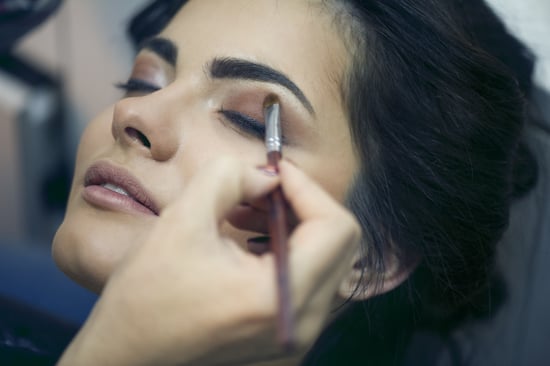 Makeup artists know all the secrets to looking great — those little tricks that can be picked up only by living in the beauty world 24/7 as they do. Fortunately, they're often as generous as they are knowledgeable. We talked with some of the best makeup artists in the business to get their best out-of-the-ordinary tips. (And no, we're not using the old "white eyeliner makes your eyes look bigger" thing. You've read it a hundred times.) Read on to see some of the best tips you haven't heard before.
Ditch the oil slick
To keep shine in check, Revlon Global Artistic Director Gucci Westman always keeps blotting papers on hand. But in a pinch, she has an unusual way to keep oil at bay. "Believe it or not," she says, "I sometimes put deodorant on my finger and dab under my eyes and t-zone to help create a matte look."
Try a colored eyeliner
Changing your eyeliner can make eyes look bigger and brighter, says makeup artist Tina Turnbow, who has worked with stars such as Natalie Portman and Julianne Moore. "Try swapping black for plum, olive green, or indigo," she suggests. "Black can close up the eye and make it appear smaller, because darker colors make the eye recede. Some colors, even brown, can be softer."
Go for sheer foundation
Adding aloe to foundation gives it excellent slip, says makeup artist Brett Freedman, who's helped women like Vanessa Hudgens and Leighton Meester get gorgeous. "Sheer out your favorite base by adding a half a pea size of aloe to your foundation before you apply," he explains. "Also, you can apply aloe to your face and while still dewy, spread on a little foundation. You're ready for Summer!"
Style your brows, size up your eyes
Doug Howell, Nars makeup artist, has an easy trick for making eyes stand out more. "Use a powder to define the entire brow, but give extra attention to the center arch area of the brow," he says. "Since this is the highest area of the brow, it tricks people's eyes into thinking your eyes look bigger." Use a brow brush to apply powder eye shadows that correspond with your hair color. He recommends Nars single eye shadows ($24 each) in these shades: Blondie for lighter hair, Bali for medium hair, and Coconut Grove for dark hair.
Create a wet look — for your lashes
"There's nothing sexier than the way lashes group together when they're wet, like after getting out of a pool," says MAC Senior Artist Victor Cembellin. "Here's the secret to the look: Apply MAC Brow Set in Clear ($15) to the eyelashes first, and then top with a coat of black mascara." The result: grouped, wet-look, sexy lashes.
Leave your lipstick in place
The same product can be used to keep lipstick in check, says MAC Senior Artist Louise Zizzo. "MAC Brow Set in Clear used around the rim of the mouth will help prevent lipstick from bleeding," she explains.
Create a camera-perfect manicure
When working with stars like Joy Bryant and Sheryl Crow, Dior celebrity makeup artist Ricky Wilson pays attention to details like fingernails. "One thing that I always do for nails is mix a bit of Dior's Skinflash pen ($37) with Dior Crème Abricot ($24) to get rid of any nicks at the base of the nail bed," he confides. "It also adds a beautiful sheen that I like to call 'red-carpet-ready' hands."
Get Bambi lashes without mascara
You don't need mascara to make your eyelashes stand out, says Mark celebrity makeup artist Mai Quynh, who has worked with actors including Emma Stone and Ashley Greene. Just add eyeliner, she says: "To get voluminous-looking lashes, apply dark brown or black waterproof eyeliner to the upper rim of your eye — not on top of the lashes, but in between and underneath them. This gives the illusion of thicker, fuller lashes without having a lined eye."
Source: Flickr user vidrio