Agyness Deyn Speaks About Working In the Fashion Industry
Fab Blab: Agyness Deyn on the Fashion Industry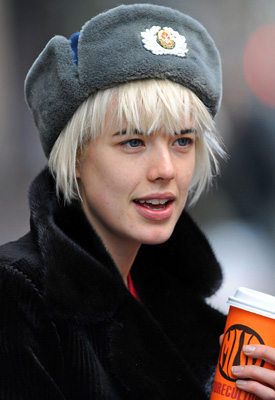 2008 was an important year for model Agyness Deyn. She started off being hailed as the next big thing and enjoyed appearing on many catwalks, featured in countless ad campaigns, released a single and even on Jonathan Ross! In the summer it began to feel like maybe she'd been overexposed so she took a short break spending increasing amounts of time in New York with her new boyfriend Albert Hammond Jr.
This weekend The Guardian caught up with Agyness to find out about her future plans ("I need to have a lot of things going on; I can't just do one thing. Like, I can't only do modeling because then I'd hate it"), comparisons to Kate Moss ("I think Kate's had an amazing career — I mean, she still has an amazing career - and she's really beautiful. But no one's the same. I'm not the new anything; I'm just Agyness,) and the fashion industry.
To find out Agyness' views of life inside the industry just read more.
She reluctantly admits,

"There are people — I've heard them saying: "Oh, you're too fat to be in the show" right in front of everyone. You've got to have a really tough skin. I hate to say it's all bad, because it isn't, but then there are people who are absolute monsters and make you feel like shit and you think: why? It's not as if I block it out — I'm aware of all the negativeness around — but I kind of don't choose to register it. I just think: "That's how they are, those people, and it's not their fault."'
Agyness adds that also, "There are some amazing people who make you feel so inspired, like John Galliano, or Christopher Bailey from Burberry — he's just the nicest northern lad you'll ever meet. And Giles [Deacon] and Katie [Grand] — they're quite real at the bottom of it.'
Sounds like she's quite "real at the bottom of it" too and you guys voted her your top model of 2008. Are you looking forward to seeing more of Agyness in 2009?