Alana Salter Interview Jewellery Designer
A Few Fab Words With Alayna Salter
If you haven't heard of Alayna Salter yet, you'll soon be hearing her name everywhere. The Oxford born singer has been likened to Avril Lavigne, and has many strings to her bow. She is still working hard to break in to the world of music, but is also a budding jewellery designer whose pieces have been already been snapped up by Katy Perry, Paris Hilton, Heidi Range, and Gabriella Cilmi. I caught up with her to find out about her jewellery, her style icons and her favourite sweets!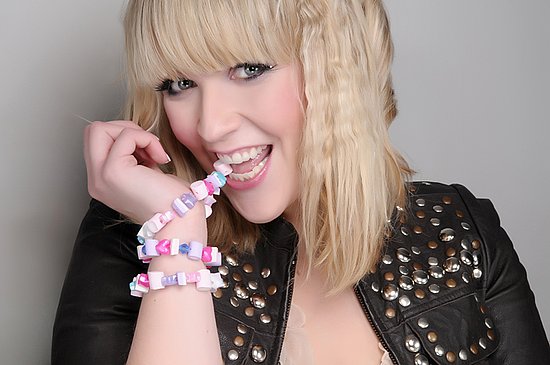 To hear what Alayna had to say, just read more.
What inspired you to start creating jewellery? I've always loved fashion and I started designing outfits and jewellery to wear on stage at my gigs, people started asking me if they could buy the jewellery and Punky Allsorts was born!
Why did you chose to make it from sweets? The jewellery isnt actually made from sweets, some of the designs and colours are inspired by my favourite sweets though!
Which are your favourite sweets? I am more of a fizzy cola bottle girl!
Who were you most excited to see wearing your pieces? It's always exciting to hear about stylish young women loving the brand, Lady Gaga's outfits are mad, so it's great she's been spotted in my designs.
How do you balance being a singer/songwriter with creating jewellery? Well music and fashion go hand in hand for me so I feel privileged to be able to do both and I'm lucky to have people to run Punky Allsorts whilst I focus on my album. What's exciting is I am featured on the brand new Sony compilation called She Rocks out next month and so people can enjoy my music alongside Britney and Girls Aloud, which is a huge honour for me!
Who are you style icons? I love cartoon Glamour - so Betty Boop mixed with Marilyn Monroe!
How would you define your style? Eclectic- it changes on a daily basis, I get bored easily so I try to look different everyday. My style is quite girlie and playful.
What one item could you not live without? I adore eyeliner, I feel naked without it!
Where are your favourite places to shop? I think Topshop is a fab highstreet store, I also love Betsy Johnson as its so me and Vivienne Westwood 'cause she's so bold.
What are your style tips for FabSugar readers? Be brave, be unique and have fun with your clothes!