Alber Elbaz on the Recession
Fab Blab: Alber Elbaz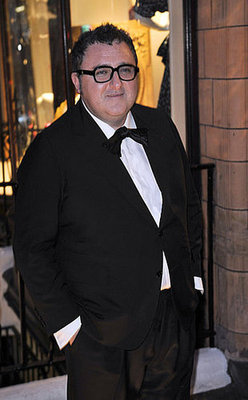 Last week Lanvin opened a womenswear store in London and Alber Elbaz used the event to pamper the ladies. Today Alber has spoken about the importance of luxury treats, despite the recession, particularly red lipstick. He said,

"But, you know, it's almost like that moment when someone is told they have a disease. Either you say, OK, let me die now, or you say, I'm going to buy a beautiful dress, I'm going to go forward and I'm going to go back to lipstick. And do you know what? A good shoe or a good dress does something to you. It's not just about fashion victims. It really does do something for all women."
The current financial climate does seem like an unusual choice of timing to open a new luxury fashion boutique, but he insists it's not because they got a "good deal". Alber added, "Of course, we've all lost money, we're not on the street though, and in order to feel better, to go forward you have to look good, you have to feel good." Like other designers before him, he insists that the recession could be a good thing.
To hear his thoughts on the credit crunch, just read more.
"You remember what was going on just a year ago, there was so much product, the bigger the better, and it was all moving so fast that there was almost no value to anything. Now that everything is more cut back and lean maybe we understand the importance of certain things, maybe we can appreciate them more."
This season Alber insists he is not dictating what to wear as fashion. He is inspired by global events and current affairs. Besides, he rightly states that fashion is not about that any more,

"You know, in the Nineties designers insisted their clothes should be worn a certain way or styled in a certain direction but I don't think that works any more. Fashion designers – and design in general – should no longer be about dictating. It's unrealistic and irrelevant to every day life."
What do you think of Alber's thoughts on the recession? Do you think there is still place for luxuries as a pick-me-up?