Alex Katz Paints Anna Wintour for National Portrait Gallery 2010
Love It or Hate It: Anna Wintour's New Portrait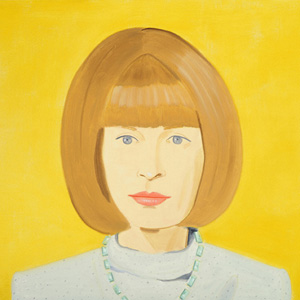 A new portrait of Anna Wintour is coming to the UK and will be displayed at the National Portrait Gallery. The painting, by Alex Katz, is part of an exhibition of his portraits showing from 15th May to 21st September 2010.
He completed Anna's portrait in late 2009 and this was the first time the Vogue editor-in-chief had ever sat for a painting. Alex commented that, "Painting Anna was like shooting a fish in a barrel. There was no way I could miss it."
Anna enjoyed the experience and explained, "I couldn't think of a nicer way to spend the afternoon. We talked for two hours while he worked, and I was pleased to see that he used a lot of colour, which I adore." What do you think of this portrait of Anna without her signature sunglasses?
Anna Wintour, 2009 by Alex Katz © Alex Katz courtesy Timothy Taylor Gallery