Alexa Chung Beauty, Alexa Chung Eyeliner, Alexa Chung Skin 2009-09-28 07:30:00
Exclusive! Alexa Talks Spots and Her Secret to Good Skin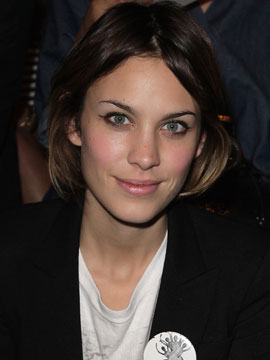 Following the Twenty8Twelve Fashion Show, FabSugar UK and I were about to leave when we spotted Alexa Chung taking a break on the bench in the lobby. Lucky us walked on over and got the chance to chat with her for a few minutes about her background, her beauty secrets, and her thoughts on having a brand-new Spring 2010 Mulberry bag named after her!
You'll have to wait until later on in the week to hear about the amazing Alexa bag, but for now, I've got the skinny on her signature winged eyeliner, her theory on why she's only had a spot once in her life (erm, can you say skin envy) and the icons who've been her beauty inspiration.
To check out my exclusive beauty interview with Alexa, just read more.
Wow, in person, you sure do you have great skin.
Thanks. It's because I'm half Chinese.
What are some of the beauty products you can't live without?
Hmm. I don't wear much makeup. I literally never get spots. Literally. I've had them about one time in my life. I'm just saying, it has nothing to do with products. That's all crap. I drink water and I have good genes. I do use Declèor. They have an oil that's really nice because I have really dry skin actually.
When did you decide to make winged eyeliner your signature look?
I don't think I have ever decided. It just happens, every day because I'm really boring and I don't know what else to do! When I realized it made my eyes look better, I just stuck with it.
Who are some of your beauty icon inspirations?
I've always loved 60's women like Jane Birkin and Julie Christie, and this type of make up (winged eyeliner) literally suits me better than shit 80's makeup. I look shit in lipstick too. I think if I looked alright in (dark) lipstick that would be my thing.