Alexa Chung on Cheryl Cole and Geek Chic
Fab Blab: Don't Call Alexa Geek Chic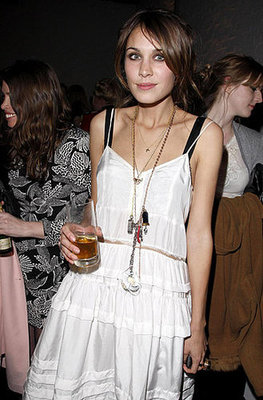 Alexa Chung has quickly become a style icon as her wardrobe combines vintage, High Street and designer items effortlessly. However, not everyone has fallen for her charm. Earlier this week at the Elle Style Awards, Alexa commented on Cheryl Cole's Vogue issue where she accused Alexa of acting "all superior".
She said, "I didn't really mind because to be fair I was probably a bit of an idiot when I met her, so it's cool. She's a national treasure so she can say what she likes."
Alexa hosted the Elle Style Awards and took home a gong for 'Best TV Star' but says she's fed up with being called 'geek chic'. "Yeah, I was a bit p****ed off about that actually. I don't intend to be geeky. I think it's because I wear glasses sometimes 'cos I've run out of contact lenses, we've all been there."
You voted Alexa your favourite new style icon in 2008, but she is quite down to earth about her trend role. "I think it's really flattering but it's not something I think about daily. I'm not like, 'Ah, I'm going to spark a trend.' I'm usually filming quite early on in the morning so it's more a case of things I can grab."
Source