Alexa Chung Wants to be a Photographer, Loves Luella,
Fab Blab: Alexa Chung on Fashion
It's the final countdown to London Fashion Week, which begins this Friday at the Natural History Museum and we're sure to see Miss Chung gracing a few front rows.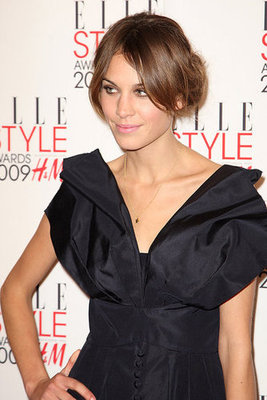 The stylish Brit has been busy recently as a mentor for the Vice Magazine/Ctrl.Alt.Shift's photography competition. Today she spoke to The Telegraph about getting involved in the competition admitting, "Ultimately, I'd like to be a photographer, that was always my main goal. I like anything which facilitates the freedom to express yourself."
Last week Alexa revealed she was annoyed by being labeled as 'geek chic' but she's quite flattered to be considered a style icon. "I've always dressed to please myself rather than others. Although it's nice to know that other people think you dress well, if I make a fashion faux-pas it doesn't keep me awake at night. When it comes down to it, they're just clothes, and everybody has a different opinion on what they think is cool. As long as I like what I wear, it doesn't really matter."
To find out about Alexa's favourite designers, just read more.
Despite this, she does have quite a high end taste for fashion listing Phillip Lim, Luella, Chanel, Isabel Marant and Antipodium and some of her favourite brands, "I like how these designers make clothes you can get dirty in." She recently commented her in her column for the Independent that she can't quite afford luxury fashion. "I wish I could afford to shop exclusively at Chanel and Miu Miu, but it's not an option. For the most part, when I'm dripping in designer goodies they have been lent to me, expected to be returned the morning after the night before preferably without the wine stains down the front, but almost always with."