Alexa Chung describes her style and what suits her
Fab Blab: Alexa Chung Explains She's "Very Limby"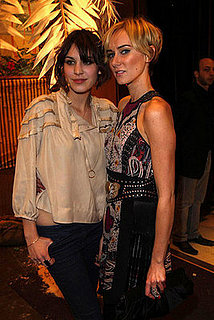 E4 presenter Alexa Chung had a very busy week last week as she attended plenty of shows and parties at London Fashion Week. She must be unhappy with the current penchant for body con as she told WWD,

"I'm very limby, and if I wear tight clothes they make me look like I'm a child pretending to be an adult."
She admits to preferring smock tops but has a great interest in style. The former model explains,

"I adore to put outfits together...After all, I used to want to be a fashion journalist."
She is pictured here at last week's Mulberry party with Kimberly Stewart.
Source