Alice Temperley Interview Handbag Essentials, London Shopping
Exclusive Few Fab Words with Alice Temperley, Part 2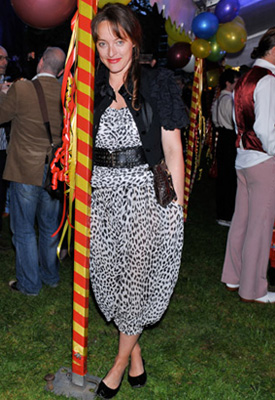 With only a few weeks to go until fashion shows kick off again, I have been catching up with one of London's best loved designers Alice Temperley. Earlier in the week I shared the first part of the interview with you as she discussed expanding her label, designing childrenswear and her must have Autumn items. Now, Alice discusses the impact of the economy, style on a budget and her London shopping tips.
Has the economic climate influenced your designs, or made you reconsider things? No not at all, the emphasis is on luxurious timeless pieces, in that sense we are giving our clients the choice of a selection of fine well made garments that will last. Temperley London has always had the philosophy of creating a great price / value relationship which is working in our favour now.
Have any other designers (past or present) influenced you? Yves Saint Laurent for his beautiful workmanship and the perfect balance between strong, powerful sexy and feminine.
To find out about her favourite shopping haunts and her handbag essentials, just read more.
You had a presentation last season instead of a catwalk show, how do you foresee the future of international fashion weeks? For the time being the future lies in presentations coupled with digital installations for us as we are continuing to explore and expand the concept. We experienced a great response to the concept and are working hard on making SS 2010 unique and special. We will see how this develops over the next 12 months or so. It seems a lot of brands are reconsidering and following us down the road of exploration this season.
Any London shopping tips? Yes, visit Alice¹s on Portobello road for all kinds of antiques and curiosities, and the Temperley London Store in Notting Hill of course! Apart from that pay a visit to Portobello Market on Friday or Saturday or take a trip East to the markets there.
Any tips for style on a budget? Taking one key piece and making it work for you by pairing with belts and accessories. Belts are amazing for completely reinventing an outfit and creating a completely different silhouette.
What essentials do you keep in your handbag? A bottle of my favourite L¹Artisan La Chasse aux Papillion perfume, MAC lipstick in Lady Danger, blackberry, camera and sketch book and pencils, just in case I get a quite moment to jot ideas down.