Alice Temperley Interview on the Recession and London Fashion Week
Fab Blab: Alice Temperley on the Recession and LFW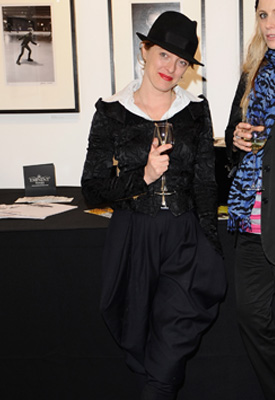 Alice Temperley has been speaking to Guardian this morning ahead of her Autumn New York fashion week presentation for Alice by Alice Temperley. The diffusion line has already been successful with it's first Spring collection and Alice's mainline continues to be a hit with countless red carpet appearances.
When asked about London's place in the international fashion schedule Alice replied, "The buyers and the press have to go to Milan because of their advertising money, New York is massive money, and Paris because everybody is in Paris – all the Arab market is in Paris, and the Japanese. London has got so much better in the last few years, which is why people are coming back, but it will have to support its young designers even more to build up a body of people and keep them here." She added that there needed to be more industry support, "A lot of the factories we worked with in Britain have gone bust. Really they should be supported, because it's crazy to lose British industry, and impossible to bring it back."
To hear what Alice had to say about her new diffusion line and her tribute to the late Alexander Mcqueen, just read more.
One of the ways that the Temperley brand has adapted to the new financial situation is to launch a more affordable, younger line. Alice explained, "It's given us a whole new surge. And it's really positive for us to be seen to be doing something new while lots of things are closing down. Obviously this year's going to be another tough year, but hopefully that will sail us out of recession."
On the day of the interview, the tragic news broke that Alexander Mcqueen had died. Alice has previously referred to him as a big influence. She paid tribute to the late designer saying, "He was definitely the most inspirational designer – he inspired everybody. His were the only other fashion shows I've ever been to, the only ones I ever wanted to go to. It was the theatrics, the fact we had a proper big showman from England who was new and original; it was amazing. And he wasn't in it for the money, he loved to create, to make a statement. He changed British fashion. He changed fashion."