Andrea Fullerton Nail Boutique
Bella Brand: Andrea Fullerton Nail Boutique
I've seen a lot of new products in my day, so it really takes something special to wow me, and the new line of amazing nail goodies from Andrea Fullerton has done just that! Andrea, an English celebrity manicurist and Global Spokesperson for Revlon Nail Care and Colour from 2008-2010, has just launched her very own collection in Superdrug!
Each item sells for £7.99 or less and because the range is so large, it's broken down into four categories: Nail Prep, Nail Colour (24 shades, peel-off polishes, french tip sets, trio layering system and flip flop french sets), Nail Art (nail tattoos, gemstones, stripe & sparkle and puff dusts & overcoat) and Nail Finishing (sparkly topcoats, quick dry, nail oils and removers).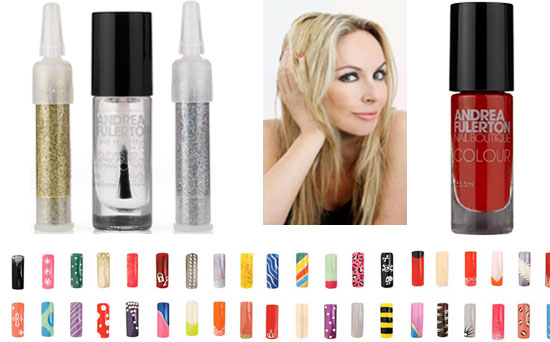 If all of this information feels lightly mind boggling, it's because it's so innovative. The hero products that have stopped me in my tracks are the peel off polishes (great for kids, or expectant moms who are afraid of solvents), quick dry oops! varnish clean up that comes with a thin brush to help you remove any mistakes you've made, the stripe & sparkle polishes that come with glitter on one end and a slim brush on the other to create your very own nail art — and of course, the trio colour layering system that comes with a double-ended varnish bottle that can be worn alone, or when layered, it completely changes colour!
Each of the gorgeous shiny varnishes have been named after Fullerton's celebrity client list. For example, Jessica (a deep red) is for Jessica Alba, Kate (a metallic purple) is for Kate Moss, Sienna (bright orange) is for Sienna Miller...and so on. I haven't had this much fun playing with my nails since I was a teen. Are you excited for this affordable new nail range? To check out even more fun products, just read more.