Andrej Pejic New York Magazine Cover 2011
Are You Still Interested in Androgynous Models?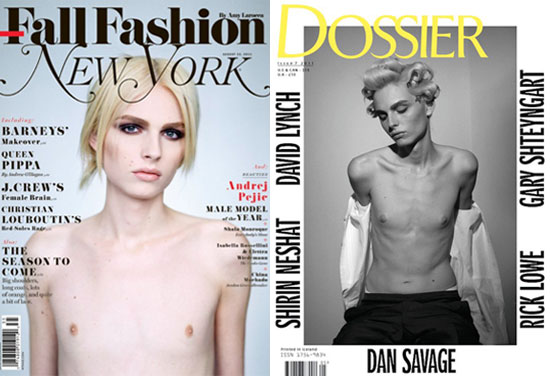 Earlier this year, the fashion industry was fixated with transgendered and androgynous models like Jana K., Lea T., and Andrej Pejic who have appeared on runways, magazine covers, and fashion campaigns. Today, New York magazine released its Fall fashion issue featuring Andrej Pejic in shirtless stance similar to the one he posed for Dossier magazine a couple months back. That issue received much controversy after Barnes & Noble demanded that Dossier's publishers hide the cover in an opaque plastic bag, but it seems like New York magazine is having no issues with flashing Andrej Pejic's shirtless cover on newsstands today. Tell us, do you think androgyny is still an interesting topic, or are you over it?