Aquascutum Enters Administration Following Jaeger Sale
Aquascutum Enters Administration Following Jaeger Sale, Closes Factory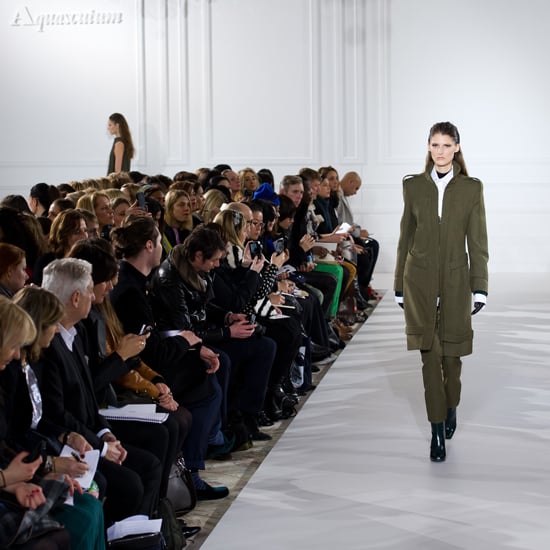 UPDATE: On Thursday, Aquascutum announced it will close its UK manufacturing plant in Corby meaning a loss of 115 jobs. A spokesperson for the adminstrators said:
"Whilst a difficult decision, it has been necessary in order to stem on-going losses for the business, and to protect the positions of the 135 remaining employees. We plan to provide appropriate assistance to all affected employees, including liaising with Jobcentre plus and helping with claims to the Redundancy Payments Service. All head office and retail operations across the UK and international high street, concession and outlet stores are operating as usual at present."
It's a sad week for British fashion, as 161-year-old heritage brand Aquascutum has gone into administration. The label, known for its classic trench coats dating backing to World War I, sparked rumours of problems when it cancelled its press day. On Tuesday afternoon, joint administrator Geoff Rowley from FRP Advisory LLP confirmed the rumours:
"We are conscious of the value of the Aquascutum brand and its long-standing heritage and because of this are keen to enter in to early discussions with interested parties open to purchasing the business as soon as possible. We will of course be conducting an urgent assessment of all stores and concessions and look to communicate to staff and suppliers at the very earliest opportunity."
The Aquascutum board said in a statement the administration proceedings were the result of the "challenging conditions in the UK". Now 250 UK jobs are at risk across its British stores and UK-based manufacturing sites. It's the next step in a difficult week for owner Harold Tillman, who bought Aquascutum in 2009 from Japanese company Renown. The British Fashion Council Chairman also sold a 90% stake in sister company Jaeger to venture capital firm Better Capital on Monday. At the beginning of the month, The Times reported on rumours Aquascutum was for sale and was creating interest in Asia. What do you think of the news?