Ashish Autumn 2009 at London Fashion Week
London Fashion Week A/W 2009: Ashish
Ashish has quickly become the hot ticket of London Fashion Week. He has dazzled (literally) the fashion crowd with his love of sequins resulting in more hype than ever for the Autumn '09 collection. V.V. Brown confirmed her love for the designer by performing alongside the catwalk at the Hippodrome in Leicester Square.
The collection was a lot of fun with the brightest colour palette you could imagine, American themed pieces and more animal print than Pat Butcher's wardrobe! There was also a fair amount of pom-poms alongside the clashing prints. Admittedly the catwalk styling may make the pieces look a bit overwhelming but the individual items are sure to be a hit.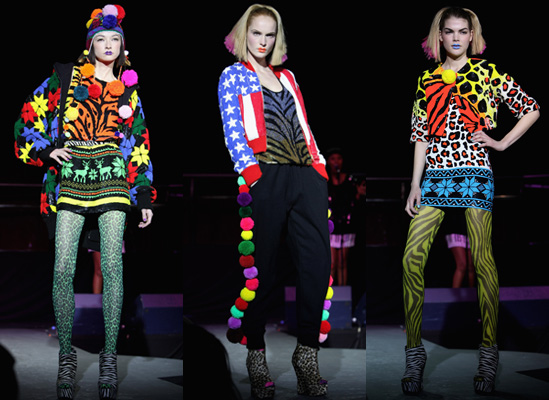 For images from the show, just read more.
Amidst the current financial depression it's great to see a designer having so much fun with fashion. There was definitely a carnival/circus vibe emphasised by pre-show entertainment in the way of circus performers.
Even if the looks appear garish right now, you're sure to see these garments on the London party season over the next year, but will the technicolour lips catch on as well? I'm already seeking out a pair of animal print tights and I'm hoping he does a version of the piano skirt for his Topshop diffusion line, otherwise I better start saving now... What do you think of Ashish's Autumn collection?