Back to Cool: Clarissa Explains It All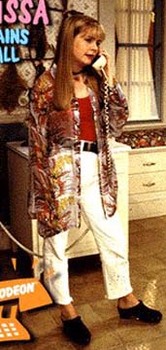 There's a bit of a '90s revival currently taking place both on the screen and on the catwalk. The recent US return of Beverly Hills 90210 may leave you digging out your stonewashed denim or it might leave you hoping they will bring back more classic TV like Blossom or Clarissa Explains It All!
I was always a fan of Clarissa's (played by Melissa Joan Hart) style not least because she seemed able to wear anything and still look cool! It was in the heyday of the floppy hat, oversized shirts and the infamous scrunchy!
Here I have pulled together some items to copy Clarissa's style and to prove that seeing as all of these items are currently available, surely it's on trend to dress like her again?!