Bag to Have: Fringed Handbag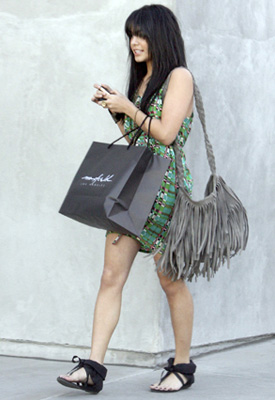 Way back in July, I was reporting on fringing being a big trend for Autumn/Winter '08. Well, now the trend has had a summer makeover and it's gone distinctly American with wild west style tassles.
Vanessa Hudgens was supporting the trend yesterday whilst out and about in Los Angeles. Her cross body bag is by JJ Winters (£260) but similar styles are now all over the High Street.
Shopper bags are a fun way to nod to the trend and they're available in a range of colours from black, to brown, to pink and purple. I love this New Look fringed shopper (£15) which would be great for a boho look. Most styles are in suede but black leather gives the bag a glam rock look. See below for more options available and let out your inner cowgirl – yeehaa!