Beatrix Ong and Viktor & Rolf Gain Financial Backing
Beatrix Ong and Viktor & Rolf Gain Financial Backing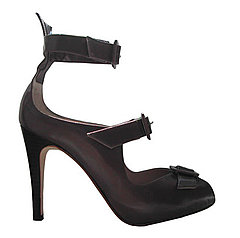 Viktor and Rolf are quickly becoming a household fashion name thanks in large part to the current retrospective at the Barbican. Now Renzo Rosso wants the designers to be one of the "top reference fashion houses of the future" so much so that the Diesel designer has invested a large amount in the duo.
The details have not been released but Rosso spoke to WWD about his plans for the fashion house.

"My idea is to build one of the most modern [fashion] groups for the future. They are much more modern, close to the new young mentality. I believe much more in the new luxury that is less expensive, more approachable for the new upcoming consumer."
To find out further read more
Another upcoming name who received good financial news yesterday is Beatrix Ong. Shoo magazine hailed her "the new Choo" as she makes beautiful sexy heels (including the pair pictured). She has just received a boost from the Jaeger clothing brand. Harold Tillman, owner of Jaeger told WWD that they are "joining forces to build the brand into a global luxury accessories brand."
Ong is one of the top ten upcoming shoe designers having trained with Jimmy Choo and already having her own boutique in Burlington Gardens. Tillman explained, "It is our intention to help her cement this deserved position and guide her global growth, to become one of the U.K.'s leading luxury brands."
The shoe pictured is called 'Naomi' and costs £378.