Beth Ditto to Create Second Evans Collection for Autumn 2010
Beth Ditto Signed for Another Evans Collection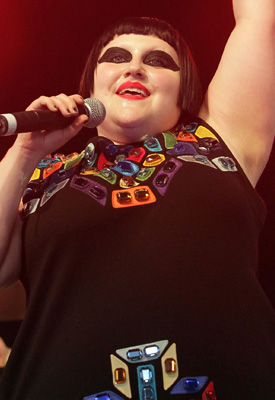 Beth Ditto's first collection for Evans was such a hit that she has been snapped up for a second. Plus size singer Beth is working on a line that is due to hit stores this Autumn.
Evans have described the line as an "eclectic hybrid" collection that is "Victorian mixed with '80s punk, through to '40s vintage with a noughties modern edge." There is also a heavy influence from her travels around the globe.
Beth Ditto for Evans part two will be available from September. The news comes following Beth's performance with The Gossip at Coachella. She also attended a toga party in California. Garance Dore spoke about how she disapproved on the plus size trend earlier this week, do you agree with her?