Blake Lively Works With Chanel on Mademoiselle Ad Campaign
Blake Lively Confirmed as Face of Chanel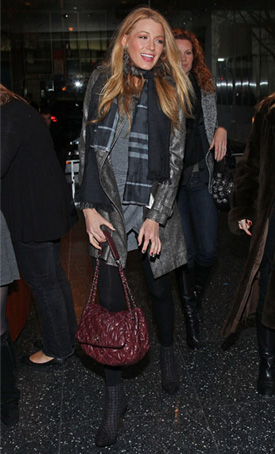 After much speculation, Blake Lively has now been confirmed as the face of Chanel's Mademoiselle handbag line. The ad campaign was shot by Karl Lagerfeld and is expected to be revealed in March. Karl is clearly a big fan of Blake as he commented, "She's a kind of American dream girl. I think she will become a great actress. It [the shoot] was an easy job because everyone fell in love with her."
Anna Wintour introduced Blake to Karl at Couture fashion week in July. Blake described the meeting, "A dream come true is an understatement. I can say that I feel like the happiest, luckiest girl around."
She also talked about how much she loves Chanel handbags. "It's a quilted case full of lipstick, love letters and the dreams and possibilities that I have always felt every time I see that beautiful 'CC.'" I can't wait to see the campaign images!