Bliss Manicure's Best Friend
Product Review: Bliss Manicure's Best Friend
I've been completely addicted to Manicure's Best Friend from Bliss (on sale now for £7.50) ever since my best friend introduced me this tiny, yet precious cuticle cream a couple of weeks ago. It's been my saving grace for dry, swollen, red cuticles and it's amazing how much it prolongs the life of my manicures — I'm talking three, maybe even four days!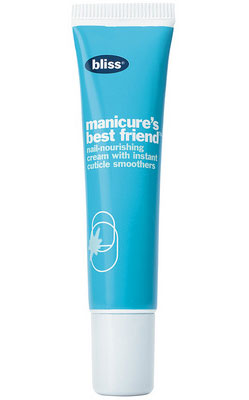 Maybe you don't pick and peel like I do, but after doing dishes and chores regularly, my cuticles tend to become cracked and straggly. Instead of leaving them alone, I have my way with them. This cream helps undo some of that damage and is most definitely buying me time until I can kick my hideous habit.
It's easy to apply with a dainty, pointed applicator (all you need is one teensy drop on each nail). It absorbs quickly, it's not greasy whatsoever, it comes in a portable tube small enough even for a clutch, and to top it off, I'm a big fan of the fresh, lemony scent. I keep it next to my computer and use it at least three times a day to help moisturise and sustain my mani's.
Do you have any beauty weapons to pass along that your friends have told you about?