Blogger Controversy at Fashion Week
Why There's More to the Street Style Story at Fashion Week
I fell in love with street style when women like Taylor Tomasi Hill and Christine Centenera made it exciting. You never knew what these fashion editors would wear to the shows — artful lessons in layering and draping, bustiers worn boldly over t-shirts, tulle poking out from underneath an army green pencil skirt. In 2008, these women didn't have Instagram or blogs. You had to wait until they were photographed at Fashion Week. Maybe they were dressing for an audience, but I always felt as if they were dressing for themselves, without agenda or motive.
That was the beginning of street style, before Instagram turned women far and wide into fashion celebrities, and there was seemingly a formula to getting your picture taken during Fashion Month.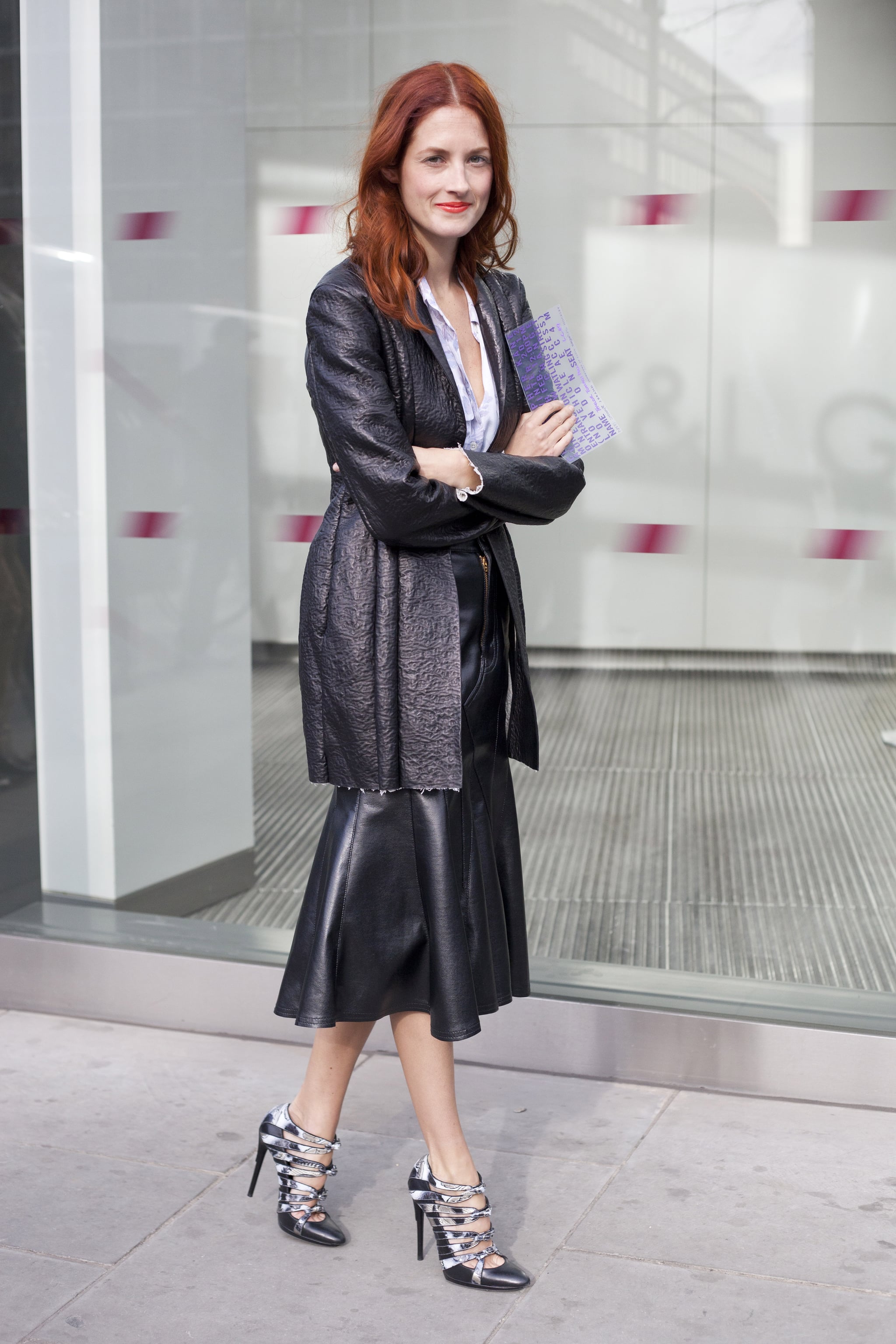 Taylor Tomasi Hill at London Fashion Week in 2012. Image source: Getty / Kirstin Sinclair
When Vogue published something of a "blogger takedown" on Sunday, calling out "pathetic" street style stars for essentially "heralding the death of style" (and consequently igniting a blogger backlash), I kept coming back to those early days — actually not that long ago. Street style is definitely different to how it used to be: "peacocking" is a contact sport, with swarms of photographers lining the streets of shows and bloggers willfully being led into oncoming traffic for the perfect shot. But to acknowledge that street style is different without acknowledging that the industry itself is different is just plain untrue — and unfair.
When I started working in the industry in 2009, street style was becoming its own show at Fashion Week. Fast-forward eight years later, and it is the show at Fashion Week, first with bloggers chronicling their outfits, now with street style photographers doing it for them. For fashion fans who aren't buying off the runway, this is what matters; they want to see a woman who dressed herself, going to the shows, looking stylish, who would inspire an outfit or two. Women who follow bloggers like Susie Bubble, Danielle Bernstein, and Aimee Song feeling like they're gaining access to an industry that was once guarded by an elite circle of insiders. But it's gone so much further than that.
Bloggers are running businesses — legitimate businesses that today go beyond their outfit 'grams. They're leveraging their personal style as consultants, designers, and brand ambassadors. With that comes business obligations: product placement, events, turning up in the front row, and smiling for pictures. Their celebrity goes beyond their own accounts and their own photos; they're being tapped by major brands to sell clothes in real time. Despite any romanticising of the runway, fashion is a business, and selling clothes matters.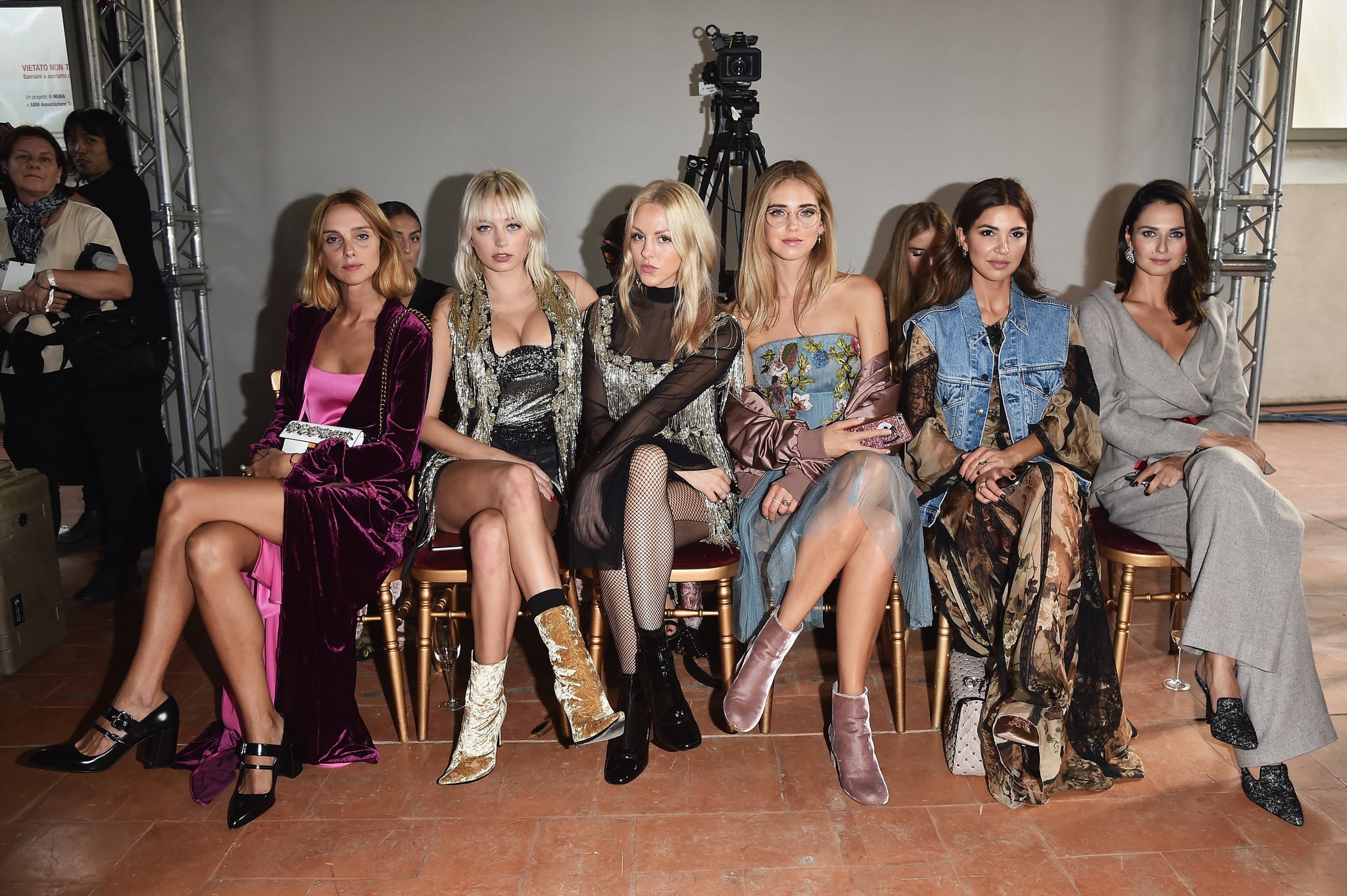 From left: Candela Novembre, Caroline Vreeland, Shea Marie, and Chiara Ferragni front row at the Alberta Ferretti show during Milan Fashion Week in September 2016. Image source: Getty / Jacopo Raule
At Fashionista, Tyler McCall gets right to the point: "The other half of the 'see now, buy now' conversation that no one seems to want to address is that it renders fashion critique nearly pointless. When Burberry shows a collection that's available for customers to buy the next day, who cares what the critics say, so long as it sells?" To that point, why would a brand seat an editor front row to review a collection when they could seat a blogger wearing the collection, to be photographed and shared with their hundreds of thousands of followers? That's just good business.
If fashion editors are grappling with that, let that be the issue, but don't blame the bloggers. The industry itself is not what it used to be, and I'm admittedly wrestling with it too — not just because editors aren't as much of a priority for brands and publicists come Fashion Week. Beyond the business, as a woman who loves fashion, I'm mourning the loss of authenticity. I miss the days of flipping through street style in magazines and being delighted and surprised by the women I saw — a break from the staged high-fashion photo shoots you find in editorials. I still crave street style every season, but it doesn't deliver the same high. The gratification of watching Taylor Tomasi Hill's personal style spontaneously on display, captured briefly on her run between shows isn't the modern street style game. It's too manufactured now. I've seen too many bloggers shopping designer showrooms and posing on demand to take street style at face value. Basically, I've seen how the sausage is made; now hot dogs will never taste the same.
Maybe it's not a loss of authenticity, but just a loss of naivety; for people who work in this industry, we know too much. On some level, the fashion industry has always been contrived – a series of ad sales and product placements dictated by editor relationships, powerful PR houses, and big brands — but it all happens behind closed doors. Bloggers aren't killing street style, they're not out to destroy fashion as we know it, though they are absolutely changing it: they're making it overwhelmingly more transparent. For followers, the bloggers provide a window into something you might never see otherwise: a front row of a runway you love, the ability to buy a head-to-toe outfit your favourite style star wore on the street. For someone in the industry, that's a big change; it hits you over the head when the front row is packed with influencers instead of editors or when you're fighting your way through photographer crowds and parades of bloggers just to get to your next show. It has a very real impact on your person, not just your place in the industry, and all of it can be exhausting.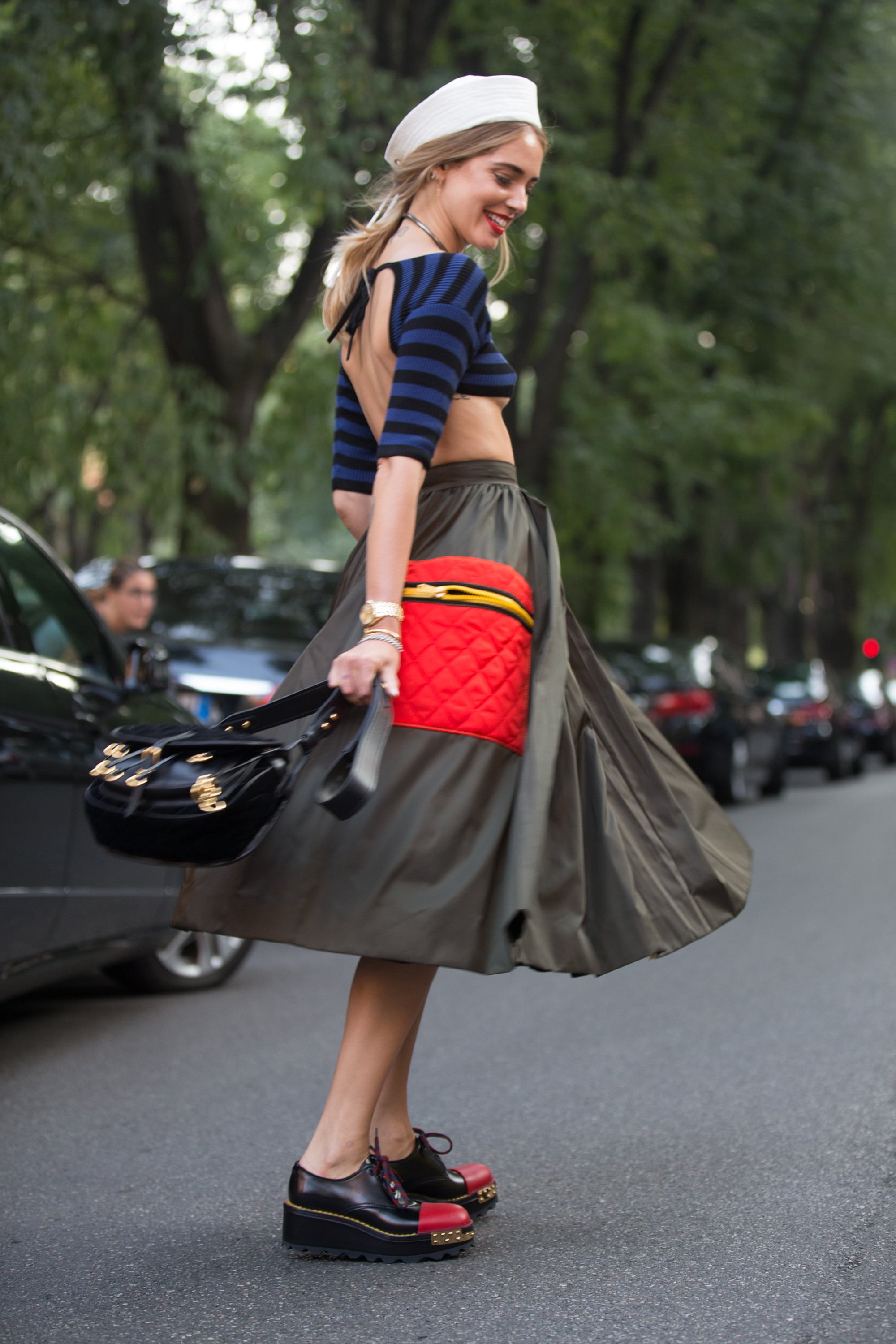 Chiara Ferragni at Milan Fashion Week in 2016. Image source: Getty / Melodie Jeng
That said, when the dust from Fashion Week settles, I tend to agree with Leandra Medine, who penned a thoughtful response to Vogue's blogger critique, aptly entitled, "Bloggers Aren't the Problem." "We are lucky in that we have access to so much information, but are perhaps unlucky in that we haven't figured out what to do with all of it yet. This is particularly true in fashion, and with street style photos," she concluded. Could it be that simple? Yes, it just might be. We are lucky to have a flood of outfit inspiration on our feeds from well-dressed men and women all over the planet on days when we can't even fathom fashioning a cute outfit. I scroll religiously through my phone nightly to help inspire my outfit planning. As an editor, I rely on those same women to supply examples of how to stylishly wear trends on our site. I love that we have access to all of that and that our readers have access to that, too. How can anyone who's done the same say you can't sit with us, while tacitly asking to share their lunch?