BobbI Brown Sheer Colour Nautical Collection
New! Bobbi Brown Sheer Colour Nautical Collection
Get excited, because as of yesterday, the new Summer Nautical Collection from Bobbi Brown is available. This limited-edition, sheer makeup range consists of six cheek tints, six lip glosses, a new mascara and a seven-pan pastel powder eye shadow palette. Of course the cheek tints (£15.66) can also be used on your eyes and lips (I'm especially kvelling over the bright, pink and coral shades) to create flushed cheeks and just-bitten, wet-looking lips. The Popsicle colour (£13.70) (a hot poppy pinky-red) is to die for — take my word!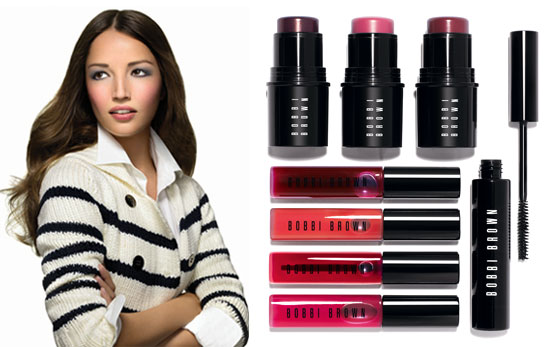 To see photos of each of the products, and for prices, detailed descriptions and additional photos from the Sheer Colour Nautical Collection, just read more.
Sheer Color Cheek Tint (£15.66) is a great, easy to travel with cream blush packaged in a tube with a wide face to make application easy. It comes in six sheer shades (but don't get me wrong, they all have punch) in Raspberry, Mauve, Lilac, Pink, Blackberry and Coral. The formula is lightweight, non-greasy and it blends well.
Limited Edition Sheer Color Lip Gloss(£13.70) has the same consistency as Bobbi's other uber-sticky glosses, however, this time around the colours look like jams. They're sheer, wearable and have a translucent finish that gives your more of a hint of colour than the bold shade in the tube. The four available shades are Cabana Coral, Marina Pink, Popsicle and Sailor.
Perfectly Defined Mascara (£16.64) comes in a soft bendy tube which makes it fun to hold. Even better is the brand-new consistency that has been created to separate, lengthen and curl each lash without clumping. It's available so far only in black.
Eye Shadow Palette (£35) This amazing addition to the collection makes travel easy. The seven shimmery shadows can be worn alone or blended together depending on the looking you're going for. There's even a dark shade that can be used for your brows and as a liner, and three medium crease shades in addition to the other fun pastels. Also, there's a mirror at the top of the compact and a double-ended brush inside.