Bonnie Wright Interview About Shopping in London and The Deathly Hallows Premiere
Harry Potter's Bonnie Wright Talks To Us About the Premiere and Her Fave Shops
Last night, I headed to the Dolce and Gabbana store on Bond Street, where InStyle hosted an event to celebrate the December issue. Party guests included Dizzee Rascal, Jameela Jamil, Sophie Ellis-Bextor and Bonnie Wright. I managed to grab a few minutes with Bonnie ahead of The Deathly Hallows premiere on Thursday. You can read my interview below.
Can you tell me about what you're wearing today?
I'm wearing Dolce and Gabbana
Are you excited about Harry Potter premiere next week?
Yes, very excited. it's come round really quickly. Although, because it's got two parts, it doesn't really finish 'til next year, but yeah it's nice.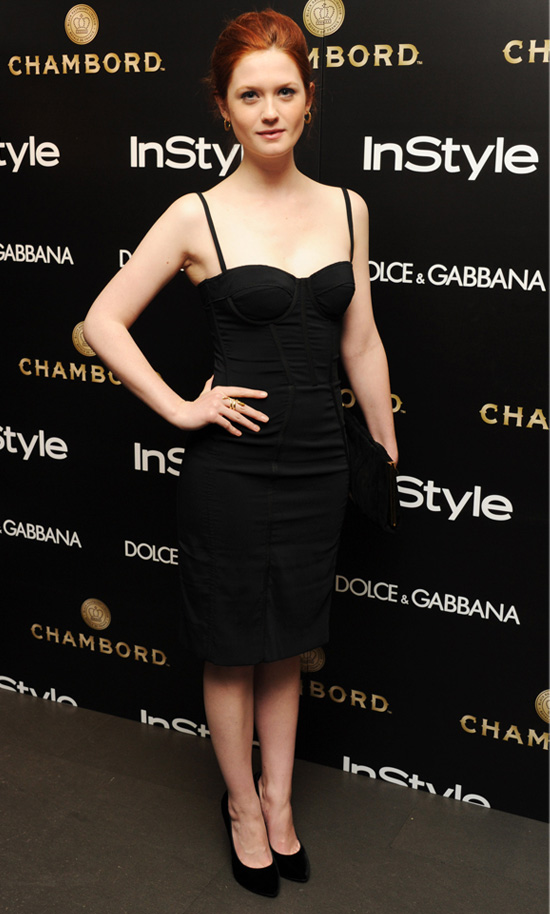 To find out about Bonnie's London shopping tips, just read more.
Have you thought about what you're going to wear to the premiere yet?
Not yet. I've got a few options, but I still haven't made my decision yet.
What have you been working on since filming finished?
I've been studying and also meetings and auditions for my next role. It's quite a big step to move away from being Ginny Weasley... something I really love
Would you be interested in going in to fashion like Emma has?
Yes I'm always interested in fashion, but I think for me my main love is acting. I guess you just see what comes your way and see how things pan out.
Where are you favourite places in London to shop?
I love Liberty because it's always really calm and Dover Street, all the shops along there. I like a lot of little shops on Westbourne Grove. My favourite High Street store is Cos and Uniqlo.
What are you looking to buy for Autumn/Winter?
I just bought my camel coat from Zara that's keeping me warm. It was a good bargain buy!
Check out more photos from the party here.