Boohoo £10 T-Shirt
Why I'm Obsessed With This £10 T-Shirt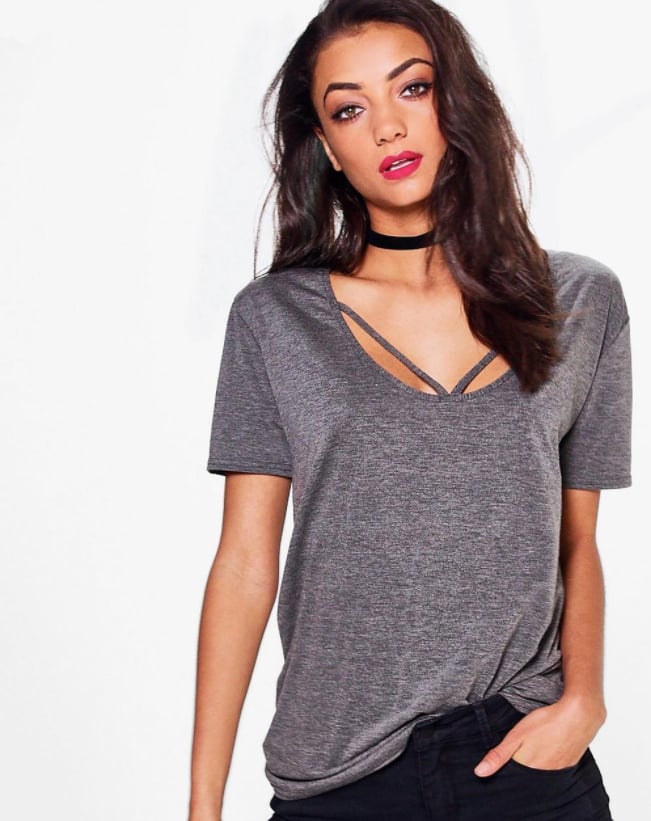 T-shirts may not seem like an item worth investing in, but over recent years I've become increasingly picky about my purchases. It's important to me to find t-shirts that don't hide curves, but also don't cling to the outline of my bra, or hug my waist and hips too tightly. Premium t-shirt brands use thicker, softer fabrics and pay more attention to cut, meaning their tees skim the body gently. Cheaper tees tend to either be boxy and boyish (and sadly, I do not have Jennifer Aniston's tailoring budget) or so tight-fitting they do nobody any favours.
However, as silhouettes have become more relaxed in recent years, more affordable brands have cottoned on (no pun intended) to the need for supersoft fabrics and slinkier shapes, and have begun delivering these at lower price points. This season, I will be living in one such tee. Boohoo's Eva t-shirt, is oversize without being tent-like, and plays on the trend for strapping and harness details. It looks great with skinny jeans, but can also be tucked casually into skirts and culottes. The best thing, though, is the price. At £10, I can buy this in 4 different colours for what I'd pay for one premium tee (and trust me, I'm halfway there already).
The tee comes in eight colours in sizes six to 16. It also comes in a cropped style for £8 and even as part of the maternity range.