Boris Johnson London Fashion Week Size Zero Funding
Breaking News: Mayor Encouraged to Cut Funding for LFW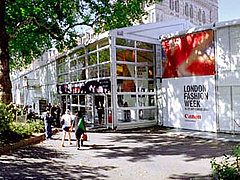 Earlier in the month we announced a change in plans by the British Fashion Council to tackle the problem of size zero models at London Fashion Week. The BFC had previously announced plans for the models to have health checks before appearing on the catwalk but could not get support from the three other major fashion weeks (Milan, Paris and New York) so were forced to scrap the plans amidst fears of scaring off models.
Today the week faced another blow as the mayor of London Boris Johnson is being asked to pull funding from the fashion week. Dee Doocey, a Liberal Democrat London assembly member, has asked for public funding to be cut at Johnson's first major question time on September 10th.
The London Development Agency recently gave the BFC £4.2m to develop the week and increase it's profile across the globe. The run up to the Spring 2009 shows has been rocky facing problems from not just size zero campaigners but also as New York Fashion Week threatens to overlap with it.