Breaking News: Yves Saint Laurent Dies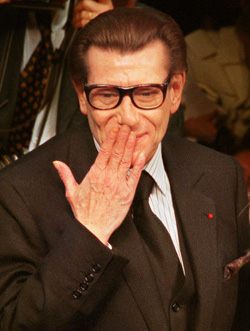 It is with great sadness that we report that the legendary designer Yves Saint Laurent has died. He was just 71 years old and had been ill for some time. He was one of the greatest designers of the 20th century creating clothing that made women feel sexy and inventing the trouser suit for women.
Pierre Berge, the designer's former business and personal partner, said he had died at his home in Paris last night after a long illness. He did not give any further details.
UK Vogue editor Alexander Shulman explained to the BBC how he brought fashion to the masses,

"Before that people had small salons for rich people. Saint Laurent brought it to the people. He was young and groovy. Pop stars were hanging out with him and younger generations related to him."
Pierre Berge spoke on French radio about how Yves Saint Laurent empowered women, "In this sense he was a libertarian, an anarchist and he threw bombs at the legs of society. That's how he transformed society and that's how he transformed women."
Our thoughts are with his family and friends, he'll be sorely missed.
To see a classic Yves Saint Laurent fashion show read more