Britain's Next Top Model: Part Two
Britain's Next Top Model: Part Two
Last night's episode of Britain's Next Top Model was all about poise and composure as the girls were required to walk on a catwalk for the first time and pose in a nightclub photo shoot. The catwalk seemed to be surprisingly difficult for some of the girls, surely they should have spent hours practicing the perfect walk in front of the mirror? After the initial test they were asked to walk in 7 inch Terry de Havilland heels which proved too much for Leanne who stumbled and eventually fell over. I felt bad for her as even Naomi Campbell has been guilty of that!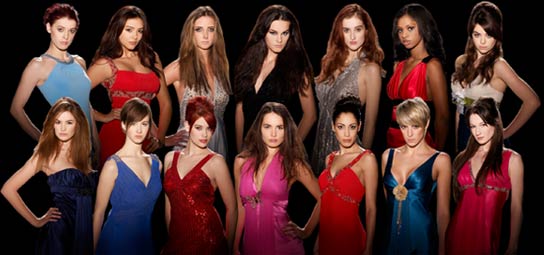 The nine best girls on the catwalk were selected to appear at The Forum nightclub hosted by Jodie Harsh to model paper dresses by Scottee. Everything seemed to go ok although the girls who weren't chosen stayed home and practiced knitting?!
If you don't want to know who left then don't read more
The nightclub photoshoot saw the girls all being cast in to different roles although it seemed like the majority of them didn't quite get in to character. They were working with the stylist Gerry Deveaux who remained unimpressed with most of them.
Alex, Martha and Musayeron were accused of not giving enough to the photoshoot and being unconvincing with their required emotion.
The guest judge this week was shoe designer Terry de Havilland who featured throughout the episode. The panel's final decision was between Musayeron and Alex as they felt that they both did not give enough to the competition.
Alex was told by Lisa that she was beautiful but needed to work harder in front of the camera. The judges said they were struggling to see Musayeron's potential as a model. Eventually, Musayeron was asked to leave.
What did you think of the episode, were they too harsh on the girls?
Source