British Style Genius, Kate Moss, Sir Philip Green, Jane Shepherdson, Biba, Ossie Clark, High Street, Topshop
Fab Watch: British Style Genius, A Fashion Democracy
Last night saw the airing of the first episode of British Style Genius which is a documentary looking at the best elements of British fashion. Here is a quick recap of the episode although if you missed it I strongly recommend catching up on Iplayer.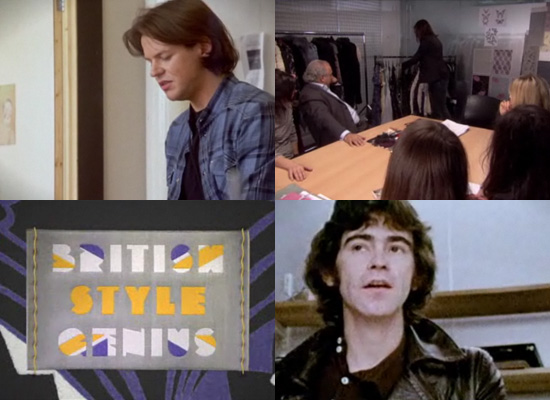 The series began with a look at Kate Moss for Topshop and it's impact on the High Street. They showed an amusing board meeting where Kate and Sir Philip Green sat discussing the sales of her autumn line for the store. We rarely ever hear Kate speak so it was intriguing to hear her Croydon tones. Sir Philip explained that the sales were good so Kate joked, "Hoorah, I've still got my job then?"
To find out more about the documentary just read more.
Most editors agreed that the line was a great idea as it offered Kate's style at a reduced cost but Colin McDowell went against the grain slightly. The Times fashion editor explained, "Kate is famous for being famous. If i was a young designer I'd be throwing bricks at Topshop." McDowell elaborated stating that there is so much great, young, creative talent in the UK that it seems a shame to have someone with no design experience be so successful.
With commentary from Jane Shepherdson the series explored the rise and fall of Topshop. It was founded in '60s but lost its touch by the '80s. Shepherdson explained how she wanted to show not just Topshop's ability to copy the catwalk but also their own design credibility which is why they launched Topshop Unique. This is literally catwalk fashion available on the High Street.
Topshop isn't the only High Street success of recent years, Marks & Spencer has also experienced a revival with a little help from Per Una designer George Davis. He has helped with widening the appeal of the store from functional to the fabulous. Twiggy put Davis's success down to his attention to detail. "The man is obsessed," she joked.
They constantly contrasted the '60s retail boom with the current and looked at both Mary Quant and Biba. Mary Quant invented clothes for young people and she explained her designs for Bazaar stating how she used bright colours, coloured stockings, short skirts, PVC, combined with childlike elements to create her infamous designs.
They also considered the design genius of Ossie Clark who initially designed for Quorum before later designing for Radley. Despite his amazing design skills, he was not very business minded. He bluntly stated, "I'm not interested in the cost of items at all." Ossie's shows with wife and textile designer Celia Birtwell were described as 'catwalk happenings' and the combination of dancing and funky music changed the face of the catwalk forever.
Barbara Hulanicki and her shop Biba are widely credited with making the High Street what it is today. She was selling high fashion pieces at low prices and the Kensington store became a meeting place for the young and fashionable in London. Hulanicki explained how they only ever created 200-300 of any item in order to keep the demand high and to keep people coming back.
The final section of the show considered Shepherdson's relationship with Oxfam particularly the way she got young designers involved with the store. She met with Christopher Kane and he explained how he updated an old dress with his trademark crystal detailing.
I thought the documentary was really interesting and I can't wait for the next installment. What did you think?
Images courtesy of the BBC.