Burberry Prorsum Autumn 2009, Milan Fashion Week
Milan Fashion Week, A/W 2009: Burberry Prorsum
Christopher Bailey stuck to a classic British Autumn look for the latest Burberry collection drawing from a dark colour palette of browns, and sombre blacks. It has been criticised slightly for being too depressing, with layers of tweed, heavy coats and a shape-less silhouette. However, I feel that Bailey knows how British people dress which is with plenty of layers, slouchy shapes and comfort.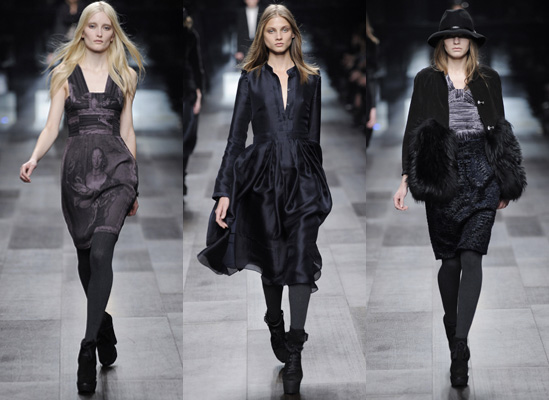 He cited influence from 'modern nostalgia and great British icons', these included '30s intellectuals like Virginia Woolf and Vanessa Bell. The classic trench got a soft, modern reinvention as it was created in slouchy suede.
There were references to Victoriana with high waisted full skirts and lace up ankle boots. It was a very romantic line where the waist was emphasised and there was a ethereal feel to some of the pieces. The collection ended with a few brocade floral dresses which are sure to be popular with the A list.