Cara Delevingne Mulberry Ad Campaign Autumn Winter 2014
Cara and Mulberry Will Make You Proud to Be British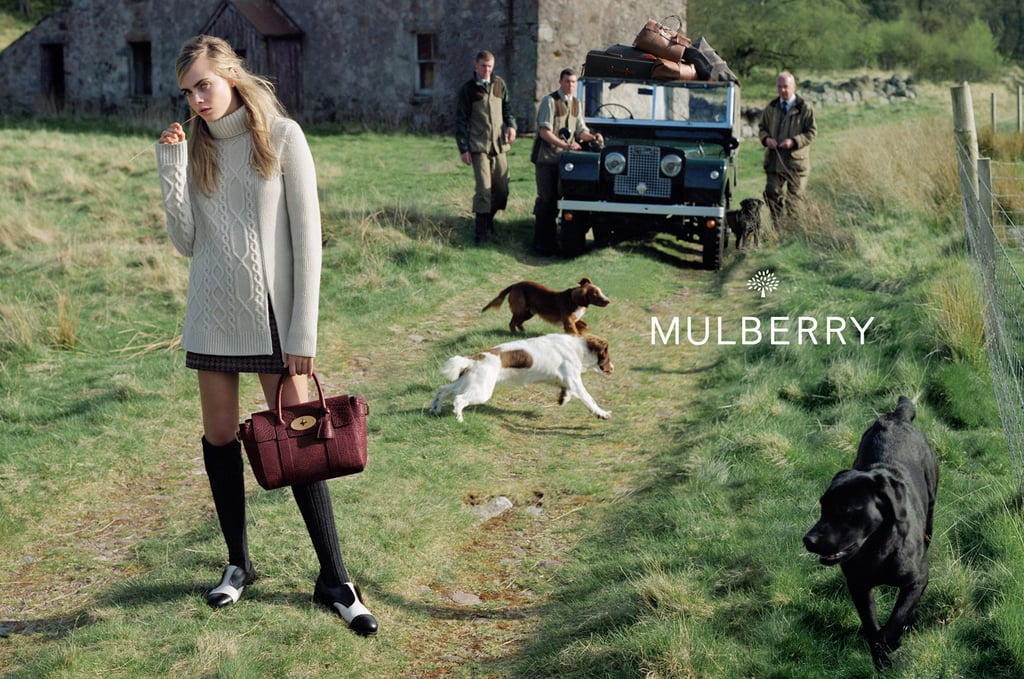 It might be the height of Summer, but with Mulberry's Autumn/Winter 2014 campaign debuting today, we couldn't be more excited for falling leaves, crisp mornings, and the opportunity to team knits with knee-highs once again.
Of course the star of the show is Mulberry muse Cara Delevingne, whom the label has previously said "epitomises the brand values of Brit heritage and London cool." We even get to see a snapshot of this London-cool aesthetic in the form of her eponymous camouflage print and black quilted backpacks, which make an appearance in the campaign (finally, we can get our hands on a Cara creation). Ms Delevingne's designs are fused with her own edgy style and look as well suited to the bright lights as they do in the campaign's countryside location.
Mulberry took to the tranquil and breathtaking Scottish Highlands to shoot the campaign with photographer Tim Walker. The rolling hills and wild heather perfectly complemented the Britishness of the new season pieces, which feature Arran knits, houndstooth print, and lace-up brogues — it's enough to make us come over all patriotic!
Aside from the long-awaited Cara Delevingne Collection, the campaign showcases the brand-new Tessie bag, which embodies an air of elegance and simplicity, and the Bayswater Buckle, which is a tribute to Mulberry bags past. We love the way that the brand is revisiting its roots so strongly, and we have it on good authority that during the shoot, the team scoffed shortbread, got no phone signal, and had only a flock of sheep to keep them company — not all Dom Perignon and lavish parties then?!
And it's not just us enjoying the back to basics direction: "The thing I most like about our new Mulberry campaign is the sheer Mulberry-ness of it! Big space, fresh air, wind in the hair, away from it all," said the label's brand director, Anne-Marie Verdin.
"Mulberry is a brand that is at home in town and country, and we wanted to capture that feeling," she continued. "When we arrived in Scotland, it was pouring with rain, but once Tim arrived, this golden sun appeared — he really has the magic touch."
If the stunning stills aren't enough for you, then check out the campaign video: