Carrie Underwood Reveals How She's Preparing For the CMA Awards
Carrie Underwood Reveals How She's Preparing For the CMA Awards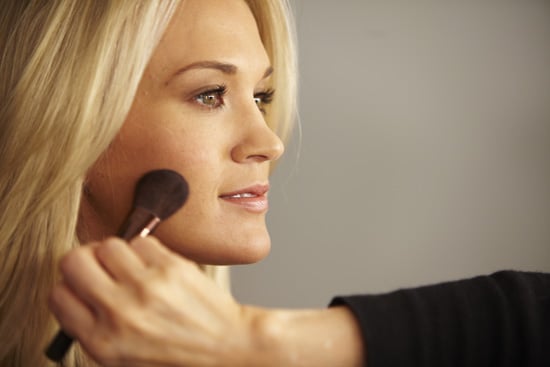 Planning to watch tonight's Country Music Association Awards? If so, you'll catch Carrie Underwood as she cohosts the event with Brad Paisley. Carrie, a female vocalist of the year nominee, who will also perform at the awards, will also unveil her latest Olay television commercial. We caught up with Carrie to find out how she's getting ready for her big night, what she's learned about beauty, and whether new music is in the works. Read on for our Q&A with Carrie Underwood, plus see behind-the-scenes photos from her Olay campaign.
BellaSugar: For the CMA awards promo with Brad Paisley, there's a great skin care joke. Kidding aside, did you wind up passing along any skin care secrets to him?
Carrie Underwood: Usually Brad and I are so busy working that we don't have time to swap secrets, but I would certainly be willing to give him a few tips!
BS: What's the best beauty advice you've ever received?
CU: It is important (and fun) to play around with hair and makeup. Someday when there's nowhere to go and nothing to do, try new things. That's the only way to get good at it: practice!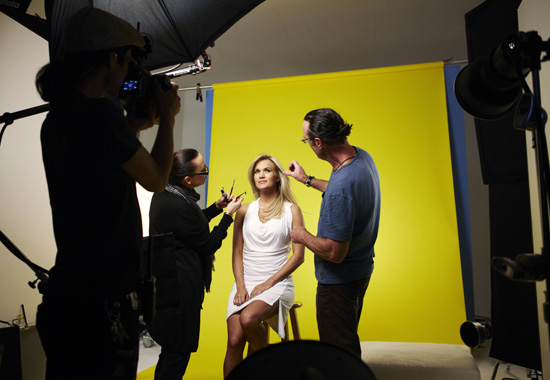 BS: How do you prepare for hosting the CMA Awards?
CU: There are, of course, a lot of meetings and discussions about the script and performance and such, but to get myself ready, I treat it like I'm in training. I do this for all big events in my career and in my life as this always gives me a goal to work towards to continue to take care of myself. I try to get a lot of rest, I exercise regularly, eat healthy (I still keep my food/exercise journal), and pay close attention to my skin. I want to make sure my skin, especially my face, is hydrated and ready for the close-ups.
BS: What are your beauty essentials?
CU: I try to keep things simple. I have enough going on in my life to have to worry about needing too many products. I have to have my Olay Cleansing Cloths. I have never had a product take off makeup like they do! They are in my bathroom, my purse, my travel bag... you get the idea! Also I couldn't live without my curling iron. My hair needs attention. It takes me five minutes to fix it, but I'm not one of those girls that can just blow-dry her hair and walk out the door—though I wish I was, because it would save me five minutes! I'm a makeup junkie, so I can work with anything. My makeup changes from day to day, so it's hard to name just one thing that I need, but a good primer is certainly helpful.
BS: What's next for your music? Are you working on new songs and a new album?
CU: I have been in the studio quite a bit lately. I'm still writing to make sure I have the best material possible, but it shouldn't be too much longer before we're wrapping things up. It's a very exciting time for me and my career!
Get live CMA Awards updates tonight! We're attending the awards as a guest of Olay. Follow us on Twitter for all the news straight from Nashville.

Source: Carrie Underwood Reveals How She's Preparing For the CMA Awards