Caryn Franklin on Names to Watch and Eco Fashion
In the first part of my interview with fashion expert Caryn Franklin, she talks about how fashion needed to be more exclusive. In the final part, she talked about upcoming names to watch and the growing importance of eco fashion.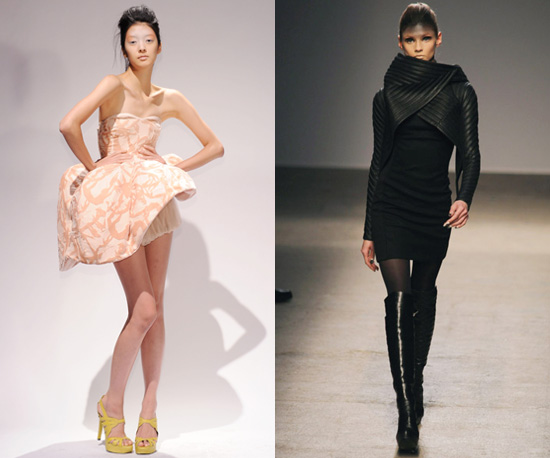 Which designers are names to watch right now?
I really like Georgia Hardinge. William Tempest has hardly been in the business at all, and yet he is so accomplished. He has just recently won a WGSN award, his pattern cutting skills are incredible. I feel very strongly that Gareth Pugh is an amazing pattern cutter. He is working to quite a strong aesthetic, there's a space for him to be creating a more mainstream collection, but it takes time. He's got a very small business. The thing to remember is, designers like William Tempest and Gareth Pugh are making this amazing sophisticated imagery and we're judging them on the same level as we do people who've been going for a long, long time. So many young businesses have been bitten by bringing in investors, there are stories of even big names having to buy their names back. Designers like Jasper Conran, Amanda Wakeley, Roland Mouret, so it's completely understandable that they want to keep it small and grow it at their own pace.
To hear what else Caryn had to say, just read more.
What are the key trends for Spring
There are so many trends across the board because during in a recession they want to give you choice. But I think the main High Street trend is this very adaptable '70s style, still lots of volume, big maxi skirts, big palatzzo pants, florals, floppy hats. A longer term trend will be people self styling, not being dictated to by a mass market producer, not buying cheap, fast fashion thats really got no second life, because we are all becoming more ethically aware. We need to be backing sustainable production.
We're all becoming more eco aware and then the recession hit. Do you think that eco fashion has therefore taken a bit of a back burner?
Inevitably in a recessionary time people don't have the money to make the same choices around quality food, organic food, sustainability. The people who do have the money should and could. I think that in recession is where we find creativity. There is rarely good creativity coming out of boom time, because people are too comfortable. In recession, everyone gets lean of mind and everything gets paired down and people get thinking about what is really good, and only the good things survive. The ones that are not good enough will start to go. There may be people who are putting a great product out there, but they don't have a business situation that can back them up, and that's sad. Generally in a recession, people have to try harder.