Caryn Franklin Talks About Catwalk Models, Exclusive Fashion and Tom Ford
Caryn Franklin Thinks Fashion Needs to Be More Exclusive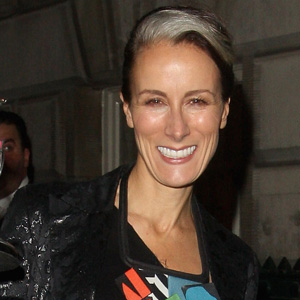 No name is more strongly associated with The Clothes Show than Caryn Franklin. Along with Jeff Banks, Caryn introduced high fashion in to British households throughout the late '80s and '90s, so when I had chance to catch up with her at The Clothes Show Live last month, how could I refuse?
Caryn is currently working on All Walks which is a campaign to promote realistic body shapes on the catwalk and in fashion imagery. She spoke to me about how she thinks (like WWD) fashion should be more exclusive and London Fashion Week.
Fashion isn't as exclusive as it used to be. However, Tom Ford just did his womenswear show and wouldn't release any images for a while. Do you think that more brands are going to go that way?
Well, I never did understand why designers do let everyone photograph their stuff in the first place, because the mass market can copy it and send it back out there much more quickly than the designer can get it out there. It never made sense to me. To me, Tom Ford is someone who has enormous clout and it's quite possible that the rest of the industry will start to think, actually everything we do is immediately ripped off so lets not do it either. That wouldn't be a bad thing.
To read what else Caryn had to say, just read more.
(cont') One of the biggest problems, I think, is the proliferation of catwalk imagery where the models are overly thin, they're not a prescriptive ideal from the fashion industry, they're a conversation between the industry. They're not going out as a prescriptive ideal to consumers, but that's how consumers receive it, because the imagery is taken and immediately sent out everywhere through new media and magazines. I think it would be good if the industry shut the doors again.
London Fashion Week has had a revival recently with the return of Burberry amongst others. Do you think it's going to continue to get bigger?
London can never attract the top level buyers because we're squeezed in between New York and Milan, and so for the top level buyers, they want to stay in New York and then they wanna hit Milan. We're not going to be competing with Milan or Paris anytime soon, but we don't do the big names. We will always be a space where emerging talent makes it mark and then moves on to the rest of the fashion capitals.
Stay tuned for more from Caryn including future names to watch.