Celeb Style: Peaches Geldof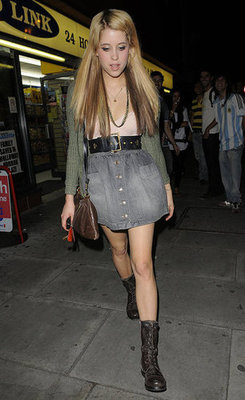 I don't usually look to London party girl Peaches Geldof for style advice but last night she must have felt inspired by her friends at PPQ as she looked pretty funky whilst heading to their Summer party. Sounds like she had a bit of a weird night as she cruised round London but at least she did it in style!
I really like her high waisted denim skirt, it's so wonderfully early '90s and she exaggerates the high waist with a chunky belt. The green ribbed cardigan softens the look slightly.
Although her brown boots make her look slightly more edgy she recently told the News of the World that Pixie is the edgy one. "Pixie is amazing – she has great style. Our style is pretty different. I think I'm a lot safer. She's very edgy and cool. She's going to be a real style icon of the future."
See below to copy Peaches' style.