Celebrities at Comme des Garcons for H and M Preview Evening
Behind the Seams: Comme des Garcons for H&M Preview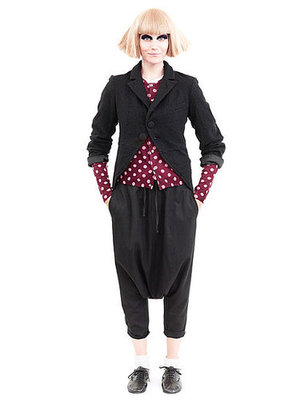 I've been kicking myself all morning as soon as it hit me that the tall woman I saw walking past me on Regent Street last night was Jourdan Dunn! Vogue hosted an evening at the H&M store and provided a preview of the Comme des Garcons for H&M range, giving shoppers a chance at first dibbs. I went along, albeit later than Ms. Dunn, to check out the goods so I could report back on my findings.
The menswear and womenswear Rei Kawakubo collaboration has been hailed as a brave choice for the High Street store and has drummed up more hype than any capsule range for a long time.
There were plenty of celebrities on hand to celebrate the launch from Katy Perry to Jaime Winstone, however, you don't have to be a celebrity to get your hands on the clothing, since it launches today worldwide.
To hear my thoughts on the collection and to see additional images, read more.
Comme des Garcons is a label famous for it's quirky designs and unusual cut so it's interesting to see how this has translated on to the High Street where the fabrics are not as luxurious. I tried on a few items from the range including a pair of high-waisted jodhpurs and a black dress.
The dress (£69.99) was a nice cut although very confusing to actually put on, and the trousers (£34.99) were potentially quite flattering with the right top but offered very little movement. They featured nice details such as buttons on the tapered ankle and slouchy pockets. I also tried on a cut-out detail blazer (£69.99) which was my favourite piece. Not so flattering were the school-style shirts (£29.99) which were no better than a standard High Street top.
Before I saw the collection I was looking forward to getting my hands on the blue trench coat (£99.99) but when I saw it in the flesh it didn't look that special and I think you could find the same quality for a lower price. The best bits for me were the polka dot cardigans (£19.99) and accessories such as a polka dot bag (£39.99) and a spotty scarf (£34.99).