Celebrities donate shoes to Barnardos for Pop Up Store
On Our Radar: Barnardos Pop Up Store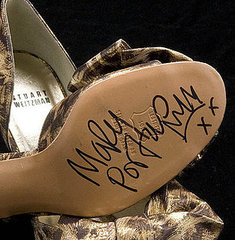 If the credit crunch is limiting your shopping habit then the unveiling of a cool second-hand clothing store should be right up your street! This month the children's charity Barnardos have opened a temporary 'pop-up' store off London's Carnaby Street offering shoes donated by celebrities.
Many stars have parted with their favourite footwear for the occasion including Peaches Geldof, Holly Willoughby, Helen Mirren and Mary Portas. There are designer bargains to be found as Laura Bailey donated a pair of Miu Miu heels and Rosamund Pike gave vintage Louis Vuittons. Also, shoe genius Christian Louboutin personally donated a pair of his shoes to the cause.
The store is now open at 69 Broadwick Street (just off Carnaby Street) but will only be there until 1st December!