Celebrity Style: Jennifer Aniston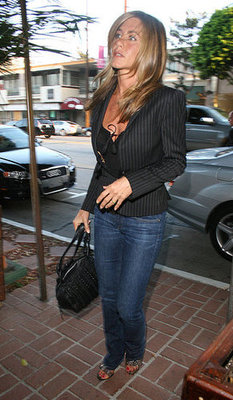 Jennifer Aniston stepped out for dinner with Woody Allen yesterday in a classic jeans and blazer ensemble.
Even though it is a classic look and her style is generally quite safe, it's an easy look to recreate and great for both work and play.
Straight leg jeans tend to be more flattering than skinny styles but still create a great silhouette. Not that Jennifer needs to concern herself with looking slimmer but black is obviously very slimming and a pin-stripe jacket elongates the body.
I think that a blazer is a wardrobe staple and although you get a better fit with a designer version, the High Street still has some great options including this one at Oasis (£70) or this style at Topshop (£45).
See a way to copy Jennifer's style below.